It's was a

Zi-Char

dinner at this open-air (alfresco) hawker center courtyard on the outskirt of town. I didn't even know this place exists even though I pass by this route numerous times. We ordered our food from stall 38. Nothing out of the ordinary here... usual fare. Can't complain much as it was RM25 for 4 dishes with 3 plates of rice.




But then the

Zi-Char

is a mere distraction for the main item we came to sample - Foochow dried squid Tofu soup. It's a specialty from stall 11, which is actually a drinks stall manned by Ah Kok. Those not in the know would have missed on on it.

It's a simple slow simmer soup with the neutral taste tofu absorbing the pungent aroma of the dried squid. It's a love-hate affair... my first encounter was when my housemate at Elm Drive (not Elm Street, mind you), Lay Sing, stank the whole house with the pong. Since then I've acquire a taste for it.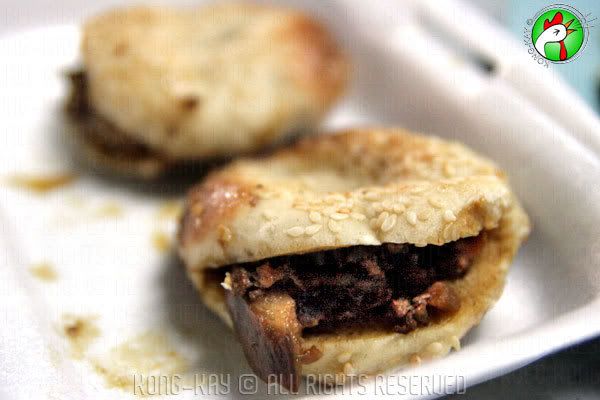 Another surprise to be had from this stall 11 is its

Kompia

(Foochow bagel) with stuffed pork belly. Yup, you didn't read wrongly... braised pork belly. Not the minced pork type, although he has that too.

Unfortunately, Ah Kok ran out of

Kompia

; it was just after 7, and started his day at 5 in the afternoon. But no worry, he obligingly scoured some

Kompia

from the nearby stall. For those of you hankering for Ah Pek's

Kompia

from Hoe Ping Road, this is as close as you can get to the original (maybe lacking garlic a bit). Far better than the Tiong Hua Road's Teochew lady's. The Kompia is crunchy toasted... seems like old times!