This entry is part of the Merdeka Open House Celebration, with this year's theme entitled "Mee and My Malaysia", orgainzed by
Babe In The City - KL
.

This is another 'out-of-the-can' experience with fast-and-easy fix-it meal; your meal can be as simple as opening a can of whatumacallit and
then complimenting it with rice or noodle. In this case, it's the rice vermicelli with canned Chinese-made braised pork belly. I use 2 small cans, which were on sale from my wholesaler friend. (You get to save quite a bit if you cut off the middleman.)







---

3 Cloves Garlic


---

5 Medium Chillies


---




METHOD

---
Soak the 2 pcs. vermicelli with tap water for 15 minutes until soften; it turns white. Drain off water.

Mince the garlic. julienned the chillies and carrot. Cut the Wong Bok Choi (Chinese cabbage) into large chunks.


Oil the wok thoroughly with 6 tbsp. oil on medium heat. Throw in half the portion of garlic; as they are about golden, toss in the dry vermicelli. Coat with the garlic oil. Then up the heat. Spread out and toss, bottom up.

Add a tablespoon of dark soy sauce and one light soy sauce. Use a thong or chopsticks to jiggle the vermicelli to evenly brown it. It should be done it about 3 minutes.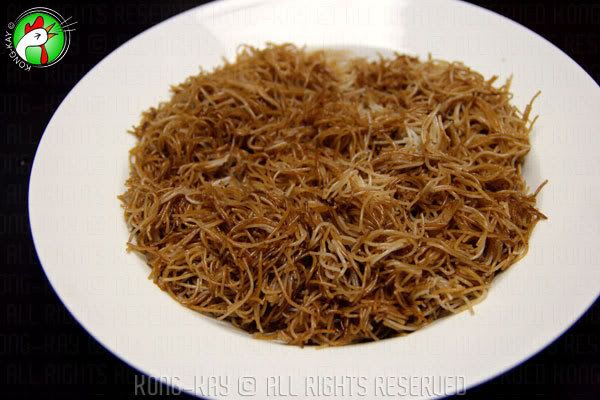 Spread out the fried vermicelli onto a plate.

If your wok is well greased, you don't have to wash it before making the meaty sauce; the vermicelli won't stick to the wok.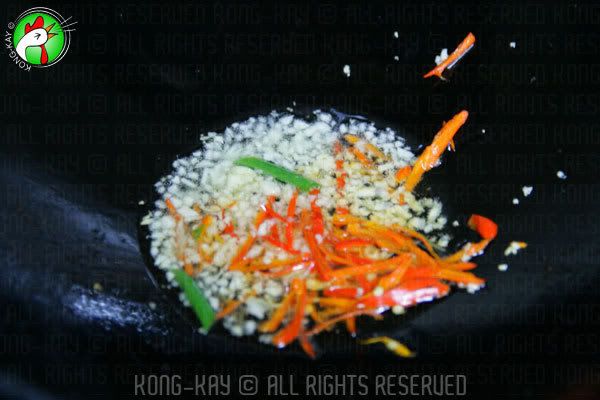 Fry minced garlic and julienned chillies with 4 tbsp. of oil on medium heat.
Empty the 2 cans of the Kou Rou (braised pork belly). Mix well.
Lower the heat, cover and let it simmer for 5 minutes. Add a bit of water if you require more sauce.

After the simmer, adjust the taste if necessary.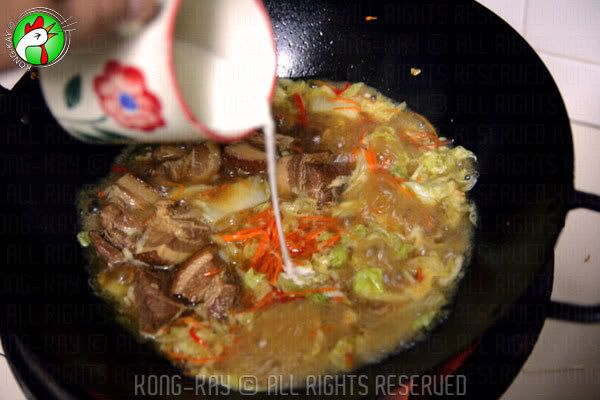 Thicken the sauce slightly with cornflour slurry. Scoop out and top the vermicelli. Garnish with scallions.
---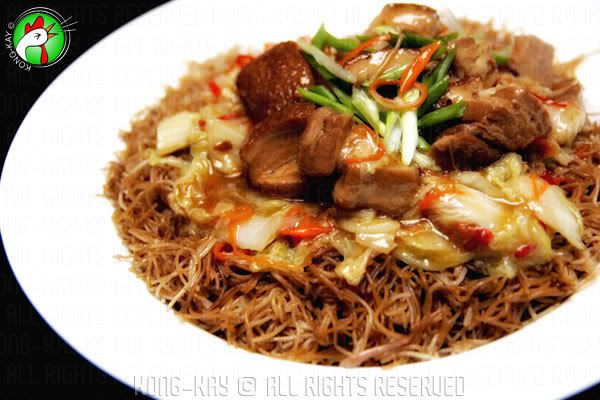 ---