This is one soup that has a strong musky flavor that needs getting used to. Come to think of it, it's a bit like

Miso

soup - salty with a stronger
whiff.

The tofu is added at the last minute before serving over low heat, just to warm up the tofu and let it gently absorb the salted fish soup. High heat will break the tofu and cause the tofu to bloat.

I use chicken stock 'cos I've some leftover in the fridge. Plain water will just do fine, as the pork bones are enough to 'sweeten' the soup.


---
Cut about 3 slices (size of a quarter, slit the chilli criss-cross horizontally, use bottom bit of lemongrass, flatening it with the side of a cleaver.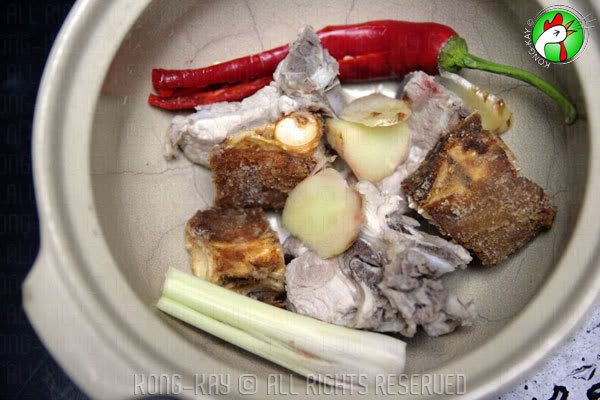 Assemble all the ingredients in a claypot.

Pour chicken stock or boiled water into the claypot, covering all the ingredients (½ liter). Bring to a boil, skim off the scum, and simmer over low heat for ½ hour, covered.