Well, as you can see,

seafood koay teow

soup isn't the only thing on our mind... we had

Ah Yew Laksa

,

Lek Tau Suan

(Sweet Lentil Soup) and

Poh Piah

(Spring roll wrap) as well. It was a Sunday and the place was packed to the brim (a little more so than normal days).

There are a few stalls within this 3 lots coffee shop that sell noodle with different variations. I think, this one is on the far right, and the

Lak Tau Suan

stall is behind it. The soup for the noodle is

chen t'ng

, but actually quite bland.

The

laksa

, there are a few of its branches in town, is one of the more expensive ones in town for a small shrimp serving. It has the reputation as being the original one at the old race course (present MBKS building) that sprouts a few disciples, namely the one at Cultural Inn and Sing Café (formerly Uncle).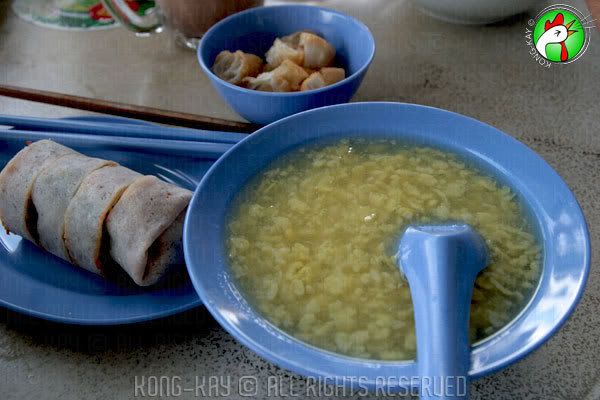 In terms of variety, this place offers quite a lot... but for outstanding stalls that offer a taste that stands out from the rest, it begs reckoning.