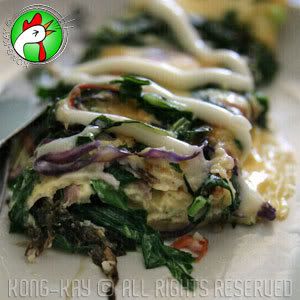 When you're feeling peckish in the afternoon, who're you gonna call? Station 1 Café, that's who!!! The name may not tingle within one ear shot, but it'll be etched on your memory when you through with the place. So remember that name!

It's not exactly a new haunt, but having discovered 3rd. exchange during the day time, we've been back a few times to try out the various outlets within the vicinity. This quaint little outlet is run by a petite lady, who has a panache for food...



... her cooking is an amalgamation of east and west style... more like Taiwanese chic food brought to a local level -

chop-suey

to some, fusion to others. Thankfully the mish-mash gels well in taste and in style, without being pretentious.


Take the pancake egg roll, it's a take on the Taiwanese snack favorite, with a twist of the ingredients used, and finally a dash of Japanese obsession added - the omnipresent mayo. You'd be confronted with thinly sliced local vegetable with ham bits, plus carrots in every bite.

Like its name implies, the

popiah

is marriage of the Hokkien

popiah

fillings and Cantonese

Hofun

skin. Come to think of it, it's very much like the Vietnamese Herb salad roll.

The above looks and tastes like your regular fried

koay teow

- very dry-fry with a bit of charring to the noodle. Finally the

Bubur Cha-Cha

is your regular
Bubur Cha-Cha

, without any refinement. Doesn't need it... rich in coconut milk, and the tapioca, yam and sago cooked just right!