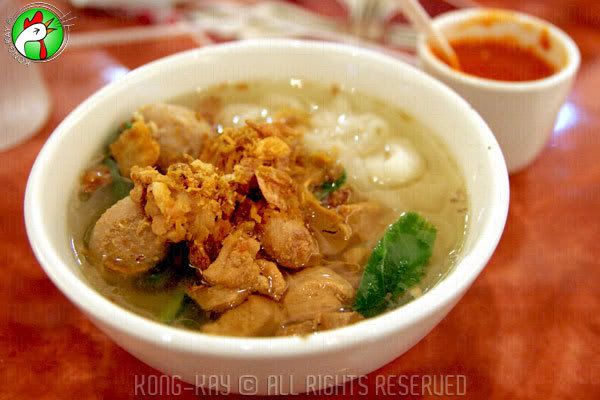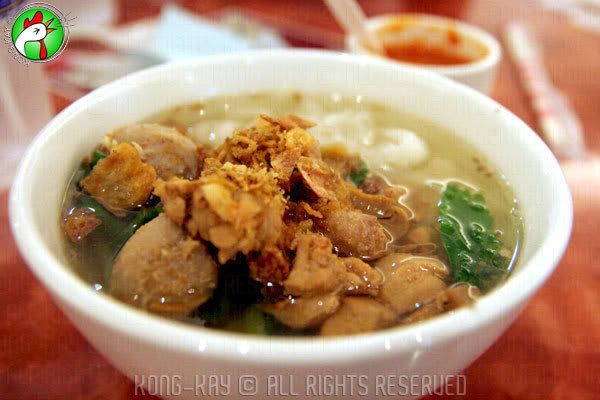 This was a meal that wasn't meant to be, as we already had a light snack prior to coming to the airport. Mr. Fernandes had other plans for us... our flight had been delayed for another 2 hours despite being rescheduled to fly off 4 hours later.
Why wouldn't the plane be delayed for another hour more, so that we would have RM200 as compensation for each of us?

A few moments before, this noodle bar was as quite as a church; no sooner had one discovered of the yet again rescheduled flight time, this place was teaming with activities. I'm sure the owners could use a few more flight re-timing for their benefit.

In a way, you could say there was a silver lining in every cloud... it came in a bowl of

Bakso

. Well, we had

Bakso

before, so what's so special about this one? It wasn't so much of the

Bakso

but the

Hor Fun

(rice noodle) that came with it... there's something about the water in Jakarta, more alkali in content I suppose, that makes the

Hor Fun

silky smooth, like the ones from Ipoh - a taste to behold. Notice the large tea cup of

Sambel Olek

that accompanied the 2 bowls of noodle? It's really a love affair with hot
thingy
with the locals.