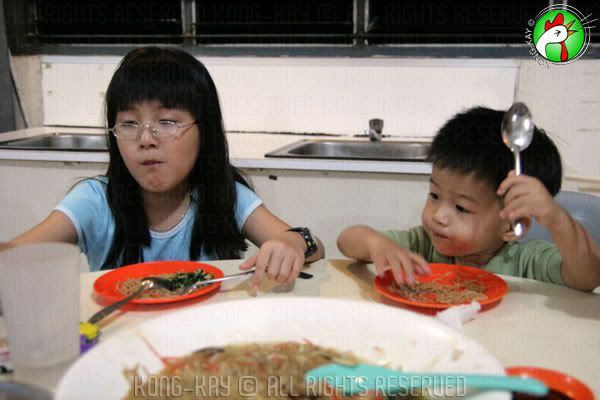 It was a kids' friendly meal (2 to 9 yrs.) of sort. For one, there was pre-requisite plate of fried noodle; it's some kind of insurance that kids will get fed even if they ignore the rest of the order. It sure had them packing them in.

Next was the house's signature dish of buttered mushroom. Don't tell the kids that! They walloped the thing with relish, thinking it was fried chicken.

I can't recall the kids digging into the greens or the fried venison; they were geared more for the adults. The venison was a bit tough on the molars.
The chicken was specially ordered with the kids in mind, but I guess, the noodle and the mushroom were all they could handle. Most of it went to the doggy bag. The fish head curry was something else... it was actually good, not your pseudo type you would expect from a way out place. Far better than some places that are purported to be fish head curry specialists.