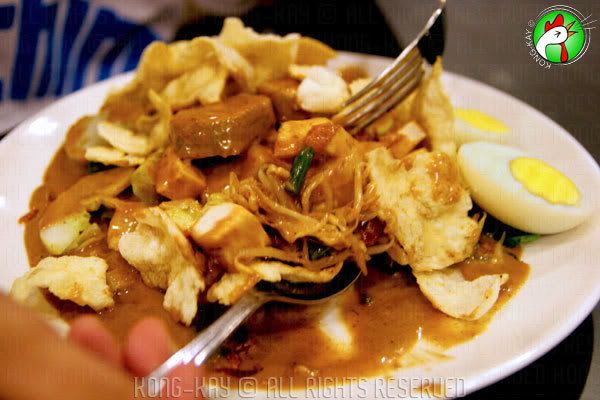 This is the restaurant, which was a stone's throw from our hotel. Since it was our last night in the city, it was our last bash before the trip home... then again there was to be breakfast, followed by lunch and high tea the next day, before boarding our flight to be had. And this place came highly recommended by the hotel staff as a reasonably price establishment despite its upscale-looking facade.

It would be a fallacy not to order this place namesake's dish -the

gado gado

. I didn't get to taste it you have to ask Seth; despite having a shitty tummy prior to and during the trip, he soldiered on with the out-of-the-ordinary local delicacies. Having said that, there are some who would still stick to the safe familiar path and ordered the salted fish fried rice.
What makes a good

rojak

(

rujak

) is its sauce, and this one is thick and robust like the concortion from one Penang's famous brand. The dip was hardly enough... sigh!
The

Nasi Timbel,

equivalent to

bento

, had cooked rice wrapped in banana leaf for cosmetic purpose, slightly steamed to warm up, thus didn't have any infused flavor of the leaf; there was tempe, salted fish, chicken and beef jerky type of meat. The soup was hot , bit sourish with a hint of belacan aroma - not quite

tom-yamish

.

Price-wise it wasn't too bad... comparable to a Malay meal in Malaysia. If only the server could recommend its specialties (which I learnt later from its website), the meal would be more complete. But still it wasn't a letdown and the food and the setup was more presentable than most along the stretch of road.