This was our second day in Jakarta. Traveled north from our central location to Chinatown. Heard the shopping here is great for clothing. If you thought the garment district in Bangkok is huge, you ain't seen nothing yet... this is surely the mother of all garment centers - 5 levels of space, 4 times the size of the Spring - all compactly squeezed together. Your head will be blitzed with shops after shops of wears (imported from god knows where) until you're overwhelmed to the point of over-saturation. Some of the clothing carried by high-end stores like

Mall Taman Anggrek

can be found here. One preterition is its lack (or no existence) of fitting rooms.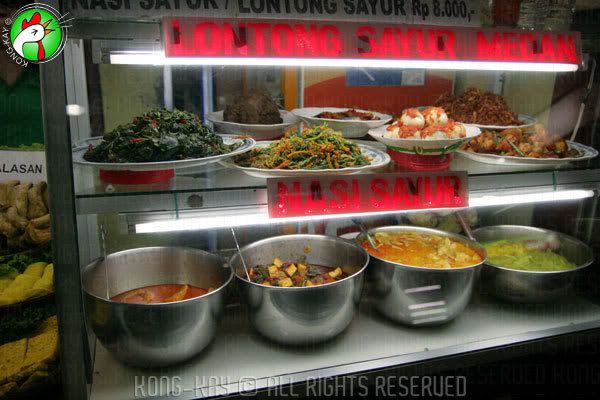 The food court at its top level didn't disappoint either. It had a mixed bag of food across the spectrum, but with prominence on the local cuisine; after all it's the locals who does the shopping here. There was rojuk mixed on a gigantic flat mortar, and a

Apam Balik

done on a self-spinning pan. The food on display in the top 2 photos are the norm one sees at most eateries across Jakarta, and this was just lunch time and with the huge crowd around, gave the assurance that the food was
freshly made (better than the previous night, that's for sure).
One would think making
Ketupat Cap Gome
is a simple affair - pouring curry gray over the compressed rice; how wrong the assumption is... here, there was a mix of 3 different curry gravies!
What would visiting Jakarta without trying its

Bakso

(

Bak Enee

, to some)...

Q-Q

!



The vegetables rice was somehow refreshing different in the way it had been fried... best eaten with the sambel.



What can I say of the

Ketupat Cap Gome

?

:ɕ





The grilled calamari was just plain Jane... but the

Sambel Godok

was something else... I know, I go on and on about the

Sambel

. They are different from on another in its contents; it's not just

belacan

and chillies anymore.
The last dish of Fried fish cake with egg sitting atop a sauce like those used in grilled dried

sotong

(cuttlefish) was like lok-lok of sort. I hardly had time for the different tastes to register. Worst of all, a lot of the food had to go to waste as I was the only one sampling most of the stuff.