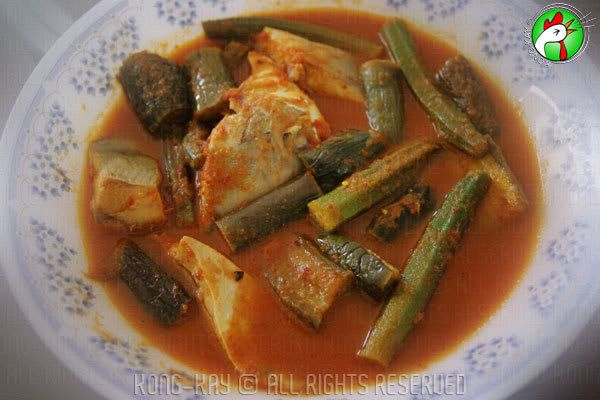 We've come a full circle to complete the circle of the curry paste... thus ending the trilogy to curry paste saga. From a simple curry paste, we've done curry chicken, vegetable curry (or

Sayur Lodeh

, if you want to impress your friend), and finally this - a sour tasting seafood curry. This one doesn't need coconut milk. It's a watery soup base curry.

The ingredients may vary slightly from dish to dish, but the same basic

rumpah

paste is there; which is similar to the Thai Red Curry Paste. Some people may omit the

belacan

(shrimp) paste like my mum did, or add coriander seeds to the mix, which may bring a subtlety of variant to the taste.



INGREDIENTS
---
Curry Paste • 1 Liter water
•
1 Promfret (Fish) • 2 Eggplant •
8 Lady's Finger (Okra) • 4 tbsp. Tamarind Pulp + 1 Cup Water • Salt
---
---
Add 4 tbsp. of oil to the wok over medium heat. When it's hot, fry the curry paste until a bit dry and fragrant. Press, stir and toss the paste around to wok up its flavor, and avoid burning.
When the paste is no longer its wet form, and a bit amber, pour in about 1 liter of water. Stir to dissolve the paste in the water. Bring the curry liquid to a boil.
In the meantime, cut a prepare the vegetable: eggplant and lady's finger.
When the curry comes to a boil, add in the eggplant. Mix and submerge in the curry
.

Then add the lady's finger. Do likewise.

Next introduce the cut fish into the curry. Add a teaspoon and half of salt, and stir to combine. Cover the wok, and allow it to come to a boil.
To prepare the tamarind pulp, mix 1 cup of water to 4 tablespoon of tamarind pulp. Use the fingers break down the pulp, separating its seeds. Strain the mixture, and reserve the liquid.
Pour in tamarind liquid, and let the fish simmer for 10 minutes or so.