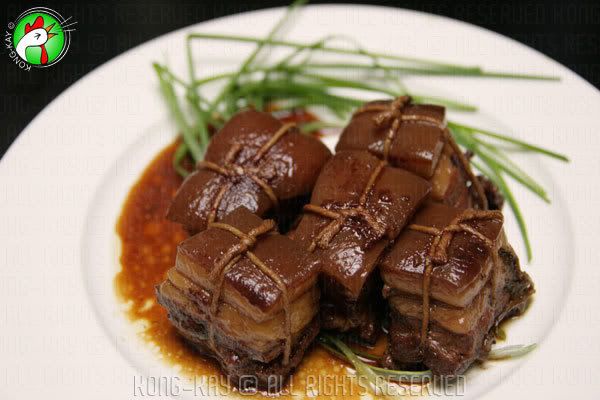 This could well be drunken pork belly, considering the amount of Chinese wine used in the process - from the legal
Shaoxing
Wine
to the home-brewed moonshine . The wine lees adds color to the dish as well as a strong fermented aroma.
INGREDIENTS

---
6 1½" Cube Pork Belly • 2 Tsp. Lees
1 Cup Water • 1 Cup Red Rice Wine
2 Tbsp. Shaoxing Wine • 2Tbsp. Sugar
4 Tbsp. Light Soy Sauce
2 Bunch Scallion

---
---

Secure the pork cube with a twine as shown, and then tie the rest of the cubes
...

... blanch the pork cubes, rinse and lay out in a claypot
.
Boil 1 tbsp. of the wine lees with 1 cup of water to color the water and bring out the aroma on medium/low fire for about 15 minutes...

... strain the lees liquid into a bowl, add 1 cup of moonshine rice wine and sugar...
Pour the mixed liquid into the claypot...
... bring the claypot to a boil, spoon the liquid over the top of the pork, then simmer over low flame for one hour (covered)...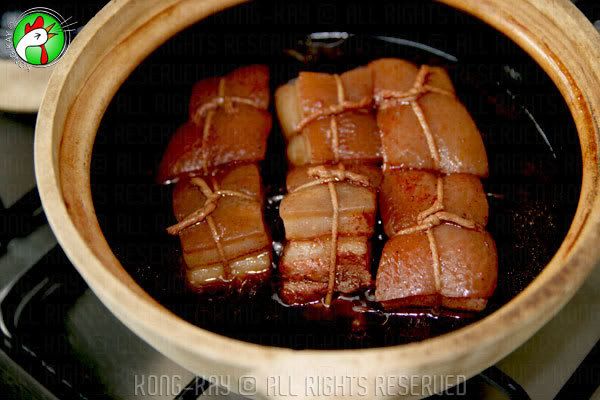 ... turn upside down all the pork pieces, continue to simmer for another hour.
The liquid will be reduced to about half or less. Taste, adjust seasoning if necessary. Thicken slightly with cornflour slurry before serving.



Remove the twine before consumption unless you're one of those who have a fetish for all things bondage.

---
---