Why settle for a plain old tin of sardine when you can dress it up to spice up your meal. It's simple and the flavor goes a long way to your tummy. Some snobs may scoff at the idea of eating from the can, but it's one of those handy standbys that can be whipped up in no time and with a little effort... and none will be wiser!

The ingredients used are similar to the Thai red curry paste except I omitted the coriander, which can be added (1 tsp.) for the spicy fragrance.

The other thing to remember is to handle the sardine with care when dislodging from the can, to avoid any flaking of its flesh. Use more or smaller chillies if you want to turn up the heat.






INGREDIENTS
---
1 Can Tomato Sardine • 1 Clove Garlic • 1 Stalk Lemongrass • 1 Chilli
2 Shallots • 1 tsp. Palm Sugar • 10gm. Belacan • 2 Tbsp. Ketchup
½ Cup of Chicken Stock
---
---
Blitz in a processor, 1 clove garlic, 1 stalk lemongrass, 1 chilli, 2 shallots, 1 tsp. palm sugar and 10gm.

belacan

(shrimp paste) into a paste.
Open a can of tomato sardine; separate the liquid from the meat. Carefully remove the fish from the can.
Heat up 4 tbsp. of cooking oil on medium heat. Fry the blended ingredients until fragrant.
Pour in the tomato liquid from the sardine, and mix well with the fried paste.
Let the paste simmer for a minute....
... add about 2 tbsp. of tomato ketchup to give the sauce a nicer hue.
Add ½ a cup of chicken stock or water and stir well.
Dish the fish individually, and spread them around the pan. Simmer over low heat...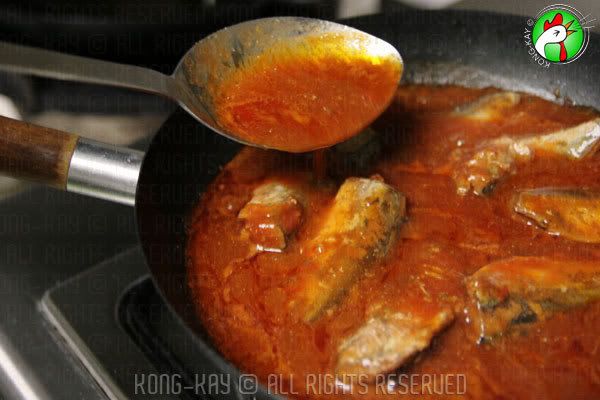 ... spoon the sauce over the top of the fishes to moisten, and let the sauce sink in. Simmer for 5 minutes, turn off heat, and let the fishes sit in the sauce for another 5 minutes before serving.
---
---