It was meant to be a

tam-chaik

weekend outing with fellow bloggers.

Suituaipui

, being

Suituapui

, didn't want to budge, even though it meant just getting in and out of the car. In the end only one person tagged along for a Sunday lunch at
Sarikei.
I had sent out a point person a
day earlier
to ensure that we would be getting what we came for - the elusive

Ching-Chieng
. I had wanted to take better pictures of the

Ching-Chieng

'cos the last time, it was a bit out of focus (can't trust auto-focus).

Upon reaching Sarikei, we popped in Wen Wen Café for a Dragon Fruit smoothe; it's another cash cow of the town after pineapple. After which we headed on to Hung Kiew Kee for lunch. Lucky for us, there wasn't any parking space at its rear entrance; thus we entered through the front and met the

Tawkey-Néo

(proprietress) by the roast meat display box. Intuitively, we began taking snaps of the meat on the skewers. Thereupon, she proudly declared that the item was featured on the internet; I blurted out : 'That's my blog!' * * Uh-oh, the cat's out of the bag!









Left:

Ching-Chieng on skewers


Top Right

: Comparative size of the Ching-Chieng against a bowl of rice


Bottom Right

: Different layers of the roast. Bottom piece is the pork belly. Top pieces are the liver sitting on top of the Char-Sui.




For the benefit of those who haven't read the earlier post on this restaurant, here's a recap of what

Ching-Chieng

is all about ...
literally

Ching-Chieng

means Gold Coin, because it resembles one of those old Chinese coins that has a hole in the middle. It consists of a piece of fat, a piece of lean pork, and a piece of pork liver sandwiched in between; the marinated slices with sprinkled sesame seeds are skewered and then grilled. The grilled meat has a savory taste of Chinese sausage (

Lap-Cheong

). The liver maintains its tenderness and moist texture, while the pork belly and the

Char-Sui

is grilled to its correct degree of doneness. A bite into one explodes 3 distinct textures and flavors, each complimenting the other, while coming together to form one euphoric orgasm... Ahem... are we done yet?!!!
Like the previous occasion, I ordered one meat, one soup and a veg. dishes. As we had 3 persons, I added an extra vegetable; I was reminded by the Sibu blogger that he hadn't had anything since seven that morning, and he's like a fish out of the water. The Sarikeian, however, had consumed RM15 worth of

Ching-Chieng

the previous day when I asked him to come over to make inquiry. The soup was done like the style of the previous encounter - with cornflour slurry and egg wash. That tiny wok could hold 6 bowls worth of soup.

The bitter gourd was fried with nothing except for the fermented beans. For such a plain Jane, it was exceptionally good. I always have meat when I do this dish to sweeten the deal. However, this method of doing things convinces me otherwise.
Whoever commented on BengBeng's, The above vegetable is not what you think it is... it looks like Fiddlehead ferns but it's not, nor is it

Kangkong

.



As we were finishing our lunch, the Foochow Ahpek brought us this plate of fruits, which we didn't order. 'Compliments of the Boss,' he said. We were delighted to no ends. These are all locally grown fruits (pineapple, honey dew & water melon), except for the orange wedges. Sarikei is orchard of the Rejang Basin; its soil is conducive a variety of fruits.


The last time I was here, I paid about RM40 for 3 dishes plus drinks for 2 person; so I guessed it would be slightly more this time 'round, with 2 freshly squeezed pineapple juice and a coke. When BB got up to make a beeline to the toilet, I followed, and told the Ahpek to prepare the bill. Well, this is what I have to say...


Fung Sim-Sang, dòh jê sai!
Sik gam-ching, mun-sai pei ching.
Mo-yee-see...

Mo-yee-see!
Kong-Kay's reputation precedes me!
---
POSTSCRIPT

**What and when I said that in the second paragraph, I was pretty convinced I was the first one to blog on the Ching-Chieng; beating Sarikeian bloggers to the punch. So when it came to writing this post (30th Oct.'08), and making doubly sure that I do not commit any faux pas, I googled and this is what I found (the link is on the date) ...
Pauline said...

First of all, on behalf of my brother, Fung Chong Hua, I sincerely like to thank Daniel Yiek for putting up 'Hung Kiew Kee Restaurant' in Sarikei Time Capsule. Without your initiative and hard work, no foreigners would know where Sarikei is. As for the young Sarikeians and the readers, we can't see Sarikei history virtually. Keep up with the good work, Daniel!

I also would like to thank everyone who has added nice comments about Hung Kiew Kee Restaurant here including 'Kong Kay' who might know my sister, Lily, in Kuching. Our family with heartfelt appreciation for all your support rendered to Hung Kiew Kee Restaurant all these years including the nice photos taken by 'Kong Kay' especially on the 'Ching-Chieng'. It looks very appetizing!
---
FOODNOTE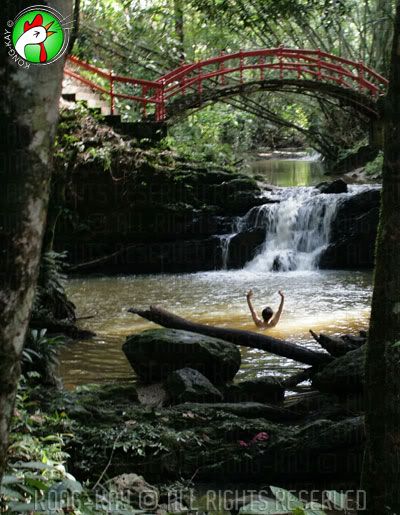 ...and a spontaneous dip; no swimming trunk, also can do...
Mrs. BB, you should let BB out of the longkang more often!

---