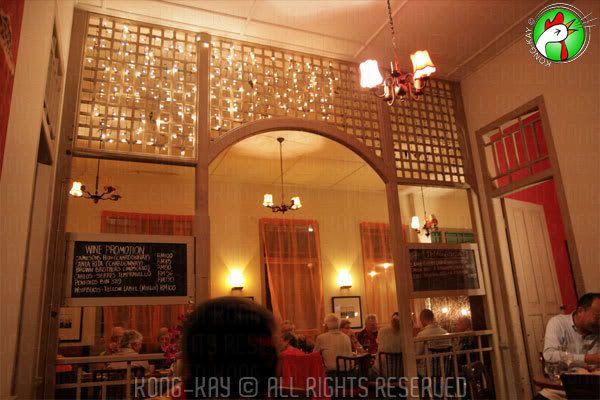 This is my first time here for a dinner, the other time here was for a book launch, and it was finger-food being served then. This place is a converted bungalow residence in a quite side of town; a quaint place it is, with its original fittings in tact that hark back to the colonial era. It used to be home to the an American consul once upon a time, I was told. It was turned into a pre-school for a while, laid abandon, and finally brought back to its full splendor for the public viewing by the present tenant. The place is tastefully decorated and lit, oozing an air of genteelness; unfortunately, it's not too gentle on the camera, as can be seen by the result of the photos.


This place is known for its tapas; however, we didn't order any... next time maybe; instead we opted for the a la carte items. We had a lamb shank, cutlet and steak, plus a chicken. As for the first 3 items, as they say, a rose by any other name is still a rose; they are lusciously gratifying to the taste buds nonetheless. The skewered chicken was one heck of a wild card that impresses all the four senses; if it can talk, it probably will be careless whisper to my ear. Its sauce of lemongrass
Its Caesar's Salad using Romaine lettuce with strips of fried chicken has a crunchy piquancy to every bite. And the use of cherry tomatoes and quail eggs add a touch of daintiness to an otherwise same old same old. Its added twist to a drab dish is what sets its food apart from the crowd. Instead of serving just chips as accompaniment, it has fried shredded potatoes; even its vegetables differs from the plain old poached ones - it has eggplant in spicy sauce or the use of local winged beans to jazz up the presentation. It doesn't overwhelm you with its quirkiness. The only complaint about this place is that either its table is too small or its serving wares are to big, which hardly leave any breathing space to maneuver for a table for 4 persons.