I think it's a fallacy to invoke the name of mom for an eatery. For me, it evokes imagery of a Rockwell painting of a stout cook in apron with a heart tattoo and the word 'Mom' inscribed on his arm.
More often than not, these places don't do justice to "mom" as a homage.
Thankfully this encounter was more pleasant than the last mom's place.


This little diner brings together the home recipe of a Nonya family - the Engs. Gracing the walls of this eatery are photos reminding us of what an old Nonya (plus extended) family is all about... if you look closely, you'll notice an old wooden house that used to occupy the land in front of the G.H. along the old Ong Kee Hui Road. Occasionally I do bump into the old matriarch, still moving about in her usual sarong kebaya... a dwindling cultural statement.
The way the

midin

(fern) is done as a cold dish is akin to the

Kerabu

with its sour taste, but a bit starchy. It's a good appetizer to get the stomach churning for what's to come.

The not-too-fatty pig's trotter oozes decadence, even Dante couldn't resist that. The sauce that benefited from the simmering is worth every drop to be splashed over your rice.
The richly colored curry, unlike Indian ones, is less herby but full-flavored nonetheless, with a tinge of heat. When combined with the pork's sauce and rice, the curry makes a perfect complement. Not too heavy on the coconut.

The

Chin-Cha-Lok

, made from fermented shrimp fry, is considered a dip sauce normally taken with cucumber slices. When combined with shallots, chillies and limequat, the hot, sour and salty concoction makes one addictive food condiment.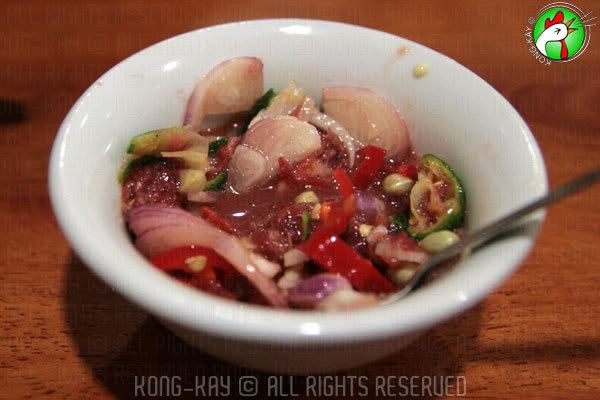 Chin-Cha-Lok


The food presented here are most of the stuff most of us eat at home one time or another (in our home at least), but never realizing it having its roots with the Nonyas... these are some of the things we take for granted. The curry and the

Too-Kar

and the

Chin-Cha-Lok

too... soul food! Just like mom would have made it. If mom can make such dishes, why bother to eat out, you might ask... that's the RM30 question.