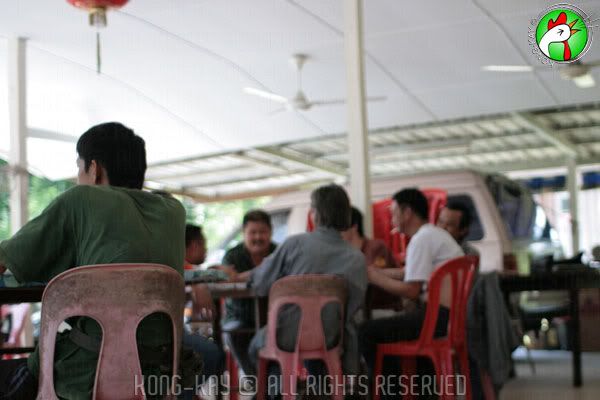 The name

Hock Chiew Lau

(Foochow Restaurant) evokes memories of a by-gone era, when there were only 2 so-called restaurant in town; this one and

Yien-Kieng

(Capitol Restaurant was a Johnny-Come-Lately).
So when someone mentioned of an old chef (80 something, he said) from that restaurant operating out of town, serving the same dishes of the restaurant, I'd better try them before the offer expires...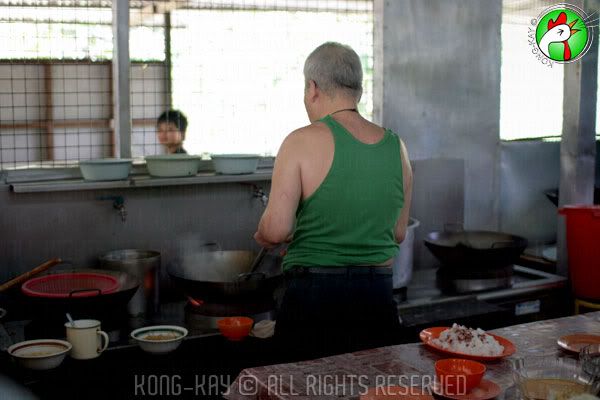 It was a leisure cruise to the said restaurant on a weekday with minimum traffic. There was only only car and some bikes parked at the front of the restaurant - staff from nearby businesses having their lunch break and playing cards. This is as laid-back as you can get in this part of town. Order of food was taken by a silver-hair lady, the proprietress, while the husband did the woking with a little help for the sons on the

mise en place

and doing the serving.










Direction:

Drive to the old airport at Brooke Drive; turn left at the road leading to UCS college. Cross the Igan Bridge, then bear left at the round-about. This road leads to Bawang Assam, Ling Chu Ming etc. Be on the lookout for a blue-roof bangalow on the right. The only sign visible is the tiny one in Chinese.






We ordered a few of its vintage signature dishes as 'wowed' by a certain someone. First off was the braised cabbage; it's one of those homely dishes one would relish, not because of it's fabulous taste, more so as it pulls a heart string or two as it harks back to what rustic home-cooking is all about - unpretentious and soulful. Beside the mushrooms, there were a few clamps (canned stuff) embedded into the casserole to lend a bit of sweetness.

The fish soup wass a hot and sour entity, which was provided by the chili and

Chow Chai,

with the aid of some tomatoes: good but not that great! The sweet and sour fish was like any other. The Foochow fried noodle is a variant of the fried Hokkien Noodle, with added dark soy sauce for depth, and braised slightly to work off the gluten to give the sauce a natural body without the aid of cornstarch:
another good but not that great item!
Lastly, this

Sio Bee

(

Sui Mai

dumlings) was a finale of the old restaurant's banquet dish. So in the grand tradition of the old restaurant, that was how we finished off the meal.
Oh, the meal only came to RM35 with 3 bowls of rice and 4 bottled drinks.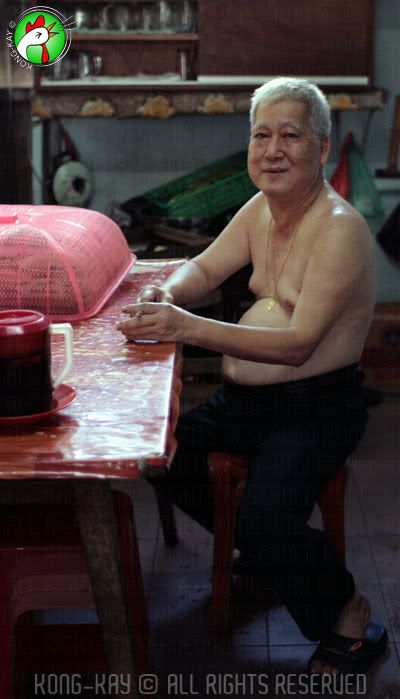 The Grandmaster Himself... Kiu Chiong Kiong
Psst, one has to take all those 'wowness' one hears with a pinch of salt... if you want to take a trip down memory lane (if you have any), this restaurant may be just the ticket. All those silver hair does make one respectable, but the chef is just a wee lad of 60 plus...