Had the sea cucumbers (1 large one and 2 small ones) in the freezer for quite some time until my mum dug it out and insisted of having it fried for dinner with some minced meat. I had other idea... small ones for vinegar soup, and the large one to be stuffed with minced pork because it would be a shame to chopped up the nice looking one. As always it wasn't a planned event, and everything was rustled up for dinner within an hour's time frame. Even I couldn't find the usual twine instead of this furry one - add a bit fiber to the diet. As for the soup, I did a fast instant

Zi-Char

style on the wok; thus didn't have any photos as it was the last dish and was way past dinner time.

---
1 Large Sea Cucumber

---
160 gm. Ground Pork
---
1 Tbsp.
Carrot (
Finely Diced)
---
1 Tbsp.
Re-hydrated Mushroom (
Finely Diced)
---
1 Tbsp. Oyster Sauce
---
1 Tsp. Sugar
---
1 Tsp. Cornflour
---
1 Tbsp. Light Soy Sauce
---
1 Tbsp. Oil
---
METHOD
---
Boil pork stock for 2 hours; I use one large bone, with 6 dried dates and 1½ liter of water. Skim off the oil layer.

Mix together all the ingredients, except the sea cucumber. Set aside in the fridge until ready to use. The pork mixture is good for 3 to 4 fillings. You can use the remainders as poached or fried meat balls or fillings for wontons.



Fill the sea cucumber with the marinated pork mixture. Use a twine to secure the sea cucumber.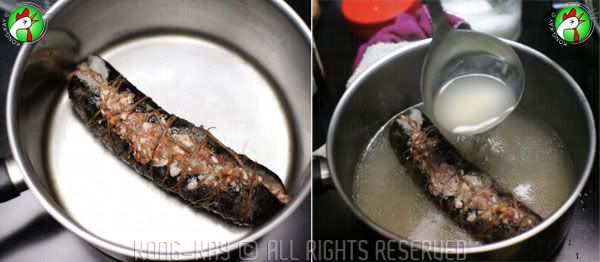 Place the bonded sea cucumber onto a pot. Ladle the hot pork stock around the sea cucumber, and submerge it under the soup. Bath it over low flame for 30 minutes, covered.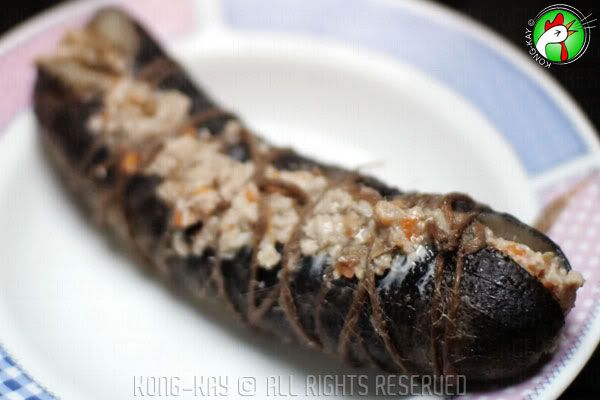 Remove and let the sea cucumber cool before cutting off the twinge .
Fry the Kangkong like here. I use Kangkong, 1 clove garlic, and 1 chilli (julienne), and sprinkling of red Chinese cooking wine.

Place the cooked Kangkong at center of the plate. Then carefully nestle the sea cucumber on top.


Bring one cup of pork stock to boil. Then melt in a couple knobs of butter. Add salt to taste, and thicken slightly with cornflour slurry.

Ladle the hot stock around the vegetable; then a bit on top of sea cucumber, running lengthwise. Finally garnish with a bit of the mince carrot and green onion.

---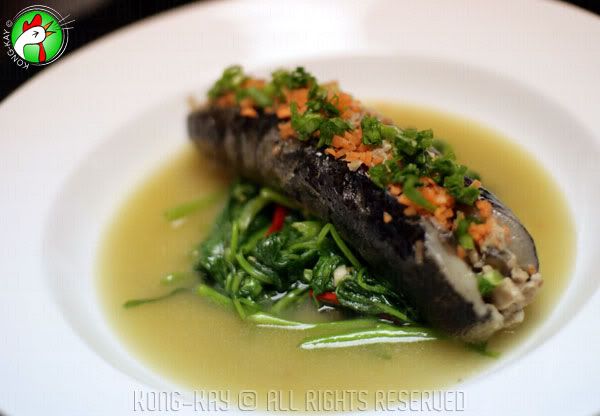 ---