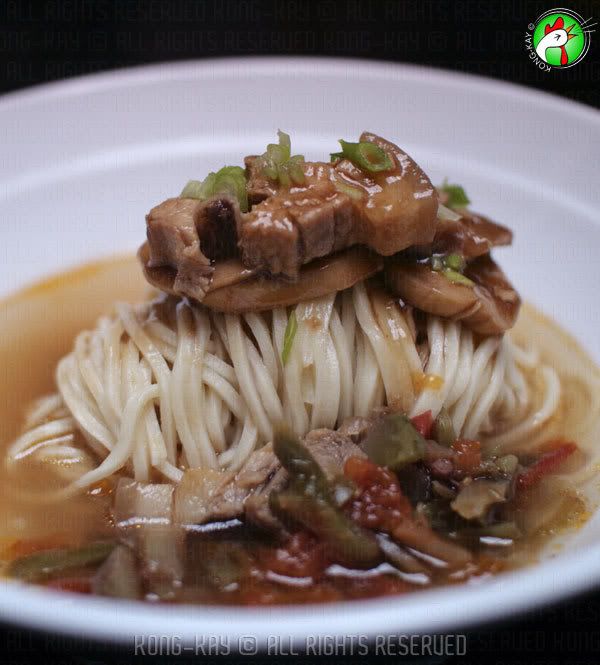 After reading Babe's post on Eryngii mushrooms, I went out and bought a pack to try. The mushroom tastes like a poor man's abalone at best, or a vegetarian's imitation gluten whatever at worst.

This recipe is a slight variation from my initial attempt using fried beehoon with similar broth. But this time I want a more robust flavor of the soup by doubling the amount of bones used. The Szechuan vegetable is a bit like Kimchi, and I chose not to wash it, but a quick run through the tap while maintaining the fermented red chilli paste. This gives the true strong flavor of the vegetable. The dates are used as sweetener, the chilli for the heat, and tomatoes for a tinge of sourness.

I use the

Heng Hua

noodle for this as it does not have the

Kee

additives to make it yellow in color. It's a bit stiffer with less bounce, but it cooks like any normal noodle.








---

4 Liters Boiled Hot Water


---

4 Large Pork Bones


---

150 gm. Szechuan Vegetable


---

2 Chillies (Silted)


---

8 Dry Red Dates


---

1 Slab Pork Belly




---

2 Clove Garlic (Minced)

---

200 gm. Eryngii Mushroom (Slices)

---

A Bag Of Heng Hua Noodle

---





Sauce


---

2 Tbsp. Oyster Sauce




---

1 Tbsp. Cornflour


---

1 Tbsp. Dark Soy Sauce




---

4 Tbsp. Water




---

Green Onion (Garnish)


---



METHOD

---

Blanch the bones on boiling water to remove the scum, until the blood doesn't ooze out. Rinse to clear the impurities before putting into a stock pot.

Add 4 liters of boiled hot water into the stock pot; after 15 minutes skim off the scum...


Add in the dates, chilles, julienned Szechuan vegetables and chopped tomatoes into the pot and let it simmer over medium heat for 1 hour.


Remove the pork, let it cool before slicing it into bite size. Let the broth continue to simmer over low heat until ready to serve. Slice the mushroom and mince the garlic.

For the sauce, add 2 tbsp.of oyster sauce, 1 tbsp. of dark soy sauce, 1 tbsp. of cornflour with 3 tbsp. of water. Stir into a syrupy form.

In a hot wok, fry garlic over 4 tbsp. of oil; when fragrant, throw in the chopped mushroom, fry for about 3 minutes to 4 minutes or so to thoroughly coat with the garlic oil.
... finally drizzle in the prepared sauce, adjust taste with salt and sugar. Then thicken slightly with cornflour slurry.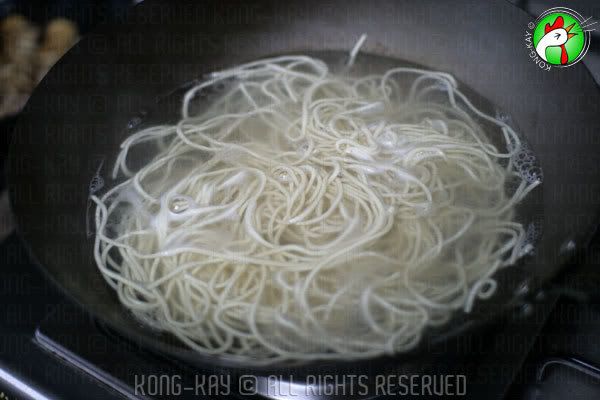 Boil enough water to cook the H

eng Hua

noodle. When done, put in a bowl, ladle the hot soup on it, and spread the pork belly and mushroom on top with the sauce.

Garnish with green onions, and serve.
---
---