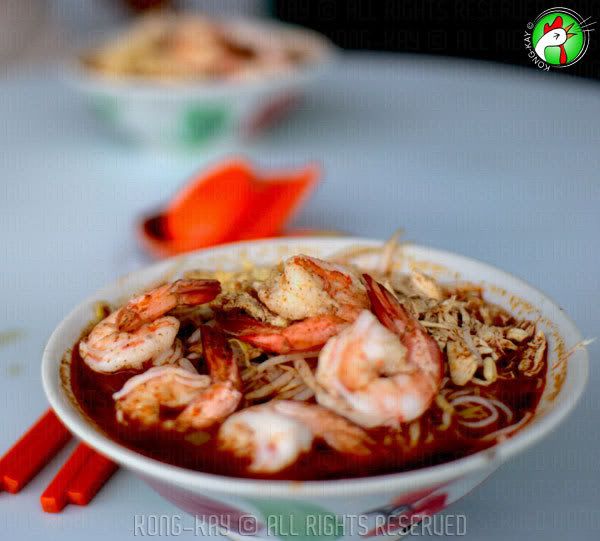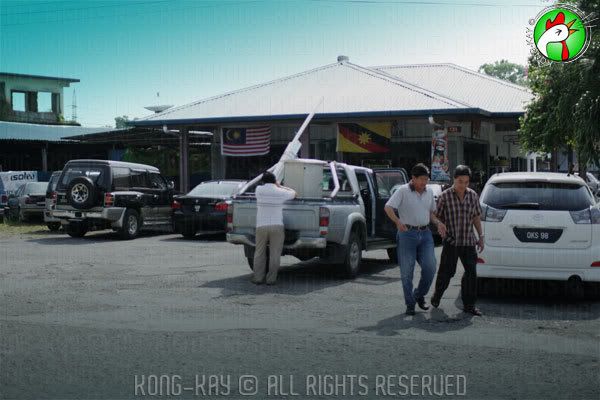 This pit-stop apparently is popular with trades-persons plying the Serian-airport route. It's a single storey premises by the roadside in an unlikely place for an eatery. Even getting there is an inconvenience, unless you're coming from Serian or Bau-Batu Kawa direction; all else, one has to make a U-turn at the Mustapha/Perrinssen road intersection. Jln. Datuk Bandar Mustapha is the road leading from the Kenyalang flyover to 4½ mile Serian Road.


The place is almost packed with vehicles when we got there. Even though it has a spacious parking space, we had to park by the main road as there were cars parked there already. The coffee shop has most of Kuchingnites' breakfast favorites - ranging from

Kolo Mee

,

Laksa

,

Kueh Chap

, porridge and economy rice. I've yet to try the other stuff apart from the

Laksa

.

The yellow pladcad on the Laksa glass showcase says: Laksa - RM3.50, RM5 and RM6. I ordered special, thinking it must be the most expensive one. However, when the order came, it was RM5 per bowl... I wonder what the RM6 is like.

What came to the table wasn't a pretty sight in terms of presentation - sans coriander and not so pretty julienned omelette, plus there were residue from the Laksa gravy sticking onto everything; it's as if they scrapping at the bottom of the cauldron. It sure was an ample bowl of

beehoon

with generous looking shrimps; at most places one gets only 3 to 4 shrimps. For the acid test: the Laksa gravy borders on the also-ran to a notch above the herbie-scented- flavor scale... quite decent.