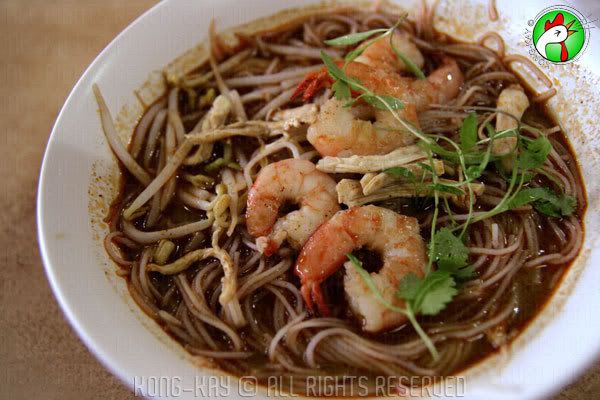 That's thick toast for the uninitiated, and it comes in 3 flavors: butter with

kaya

(coconut jam), butter with honey, and peanut butter with sweetened condensed milk. This is a recently introduced item from the drinks department, where the normal fares are normal thin toasts and boiled eggs. This thick toast is about 3 times the thickness of a normal slice. It's done with fresh bread, thus retaining the moist softness of the center, while having a crisp exterior of the bread.

This place is known for its Sarawak

Laksa (left)

; but if you have a close look at the bowl of the stuff served here, you'll be surprised at the timid strains of poached chicken and the lack of julienned omelette in the serving, even for its premium bowl... and you wonder why people still clamor for its

Laksa

. It's all in the Laksa broth, stupid! Not for its large shrimps or anything else, as some people would have you believe.

Sitting quite comfortably next to the

Nonya Kueh

stall and the

Kolo Mee

stall across the aisle is the Muslim stall selling

Mee Jawa

and

Mee Goreng

. Things we take for granted here no longer exist in West Malaysia: the co-existence of Muslims and non-halal stalls side-by-side.
Above is Ah Siang, the proprietor's son: the lookout man with the fastest draw on this side of town; he can pull one mean coffee or tea in those muslin strainer - faster than you can find a seat in the coffee shop. For regulars, drinks will be served the moment your butt touches the bench seating even without placing an order.

*got 2 free fat toasts on the return visit when I gave him the above photo