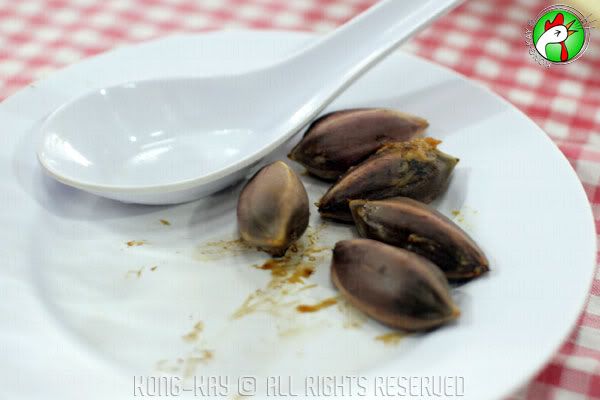 If you have the urge to run out to buy some durians or

Ba-la-Bay

(black olives)after reading this, don't!
There are not in season now, as this eating session took place a couple of months back. As usual at this eatery, we tend to B.Y.O. tid-bits to go with the normal order from the house.


Business hasn't been that great for this eatery since they shifted here. Food is still the same though... bad

fung-shui

being adjacent to a Chinese temple, so they say... but some hog of a Lillian may beg to differ.
The chilled poached chicken with gizzards was pre-ordered a day ahead. Cooked just right without any ghastly bloody under-cooked bits - firm skin, tender meat; tasted every bit like the cold drunken chicken from
Din Tai Fung
, minus the alcohol. Yummilicious!
Looks like the next photo needs some exorcism of sorts... all the shots of the fish looked like it had gone into a fit of hysteria while the plate remained stationary. Possessed or not, the black beans and chilies brought out the devil of the crispy fried fish head.
The vegetable below is a hybrid grown locally - a cross between

Kailan

and

Chai Sym;

you get the best of both worlds. The plain fry with garlic brings an unadulterated
fresh feel to the dish.
The last veg. is an eclectic mix of imported and local variety. Another simple fry as well.