This is a new branch to its original place at Jalan Pertama, next to Auntie's Corner. The connotation of a branch doesn't befit its physical size; it looks more like a big brother to its first outlet. The food for both places seem the same: one plate meal and a la carte order. We opted for the a la carte this time 'round.
Its menu bears different prices for different sizes. It's advisable to order a lesser amount than the number of persons one has, because its portioning is quite generous. And its fixed prices are reasonable within the prevailing market price. Its service is quite commendable.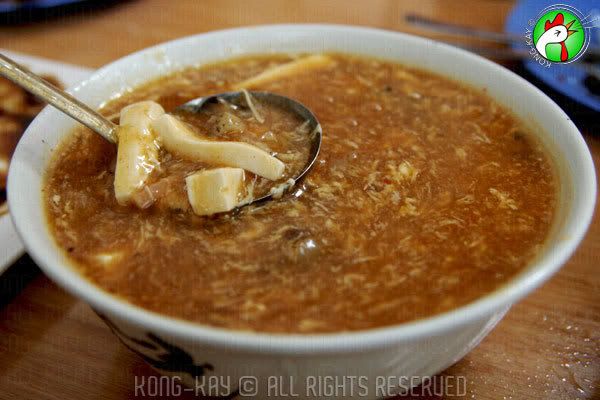 Hot & Sour Soup


There's no comfort zone here where you can eat and linger... it's basically an eat-and-run place, which satisfies the two Ps - palate and pocket. All its dishes are well done, with some dishes slightly different than other places. The most notable is the soup; it's Miso-like Soup with bits of ham, sea cucumber and tofu, not your regular Szechuan variety. The fried shrimps also stands out, being crisp on its skin, and fully flavored with its slightly sweet soy sauce.