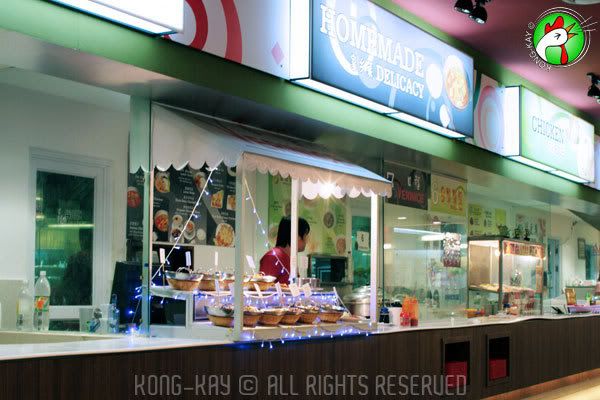 Would you believe it, this place is just a 5 minutes' drive from my place on a clear day, traffic-wise, that is? It's one of those convenient places to eat out on a rainy day without stepping into the rain; Hong Kong Noodle House at Saberkas is another one that comes to mind. The food court here, although a bit smaller than the one at the Springs, gives a far better offerings. Its one stretch canteen style counter doesn't inspire much of a confidence to work up ones appetite, but upon closer inspection the array of food represented certainly delivers the goodies. And not all of the stalls are of unknown qualities, as some of them are well established eateries in town; they represent a spectrum of flavors from Indian to Korean fares.


Thai Chicken Chop Rice

The 2 dishes shown here were ordered from 2 adjacent stalls - Homemade delicacies and Chicken Rice. The one below is a local herbal favorite which is steeped in white Chinese rice wine, reputably good for women during certain period of the month - blood cleansing, they say. Well, I wasn't having any of that, literally not both counts. Instead, I had the spicy Thai Pork Chop. Its sauce was heavy on the lemongrass flavor, but not too hot though. Still, good to the last lick!