Finding afternoon snacks on a Sunday is not exactly finding needle in a haystack, but close. Apart from a couple of places like Carpenter St. or Song Kheng Hai's Hawkers' Center or those ice kacang places, the choices are limited. This place, I think is nocturnal, and lives for the weekends. It has most of the usual noodle one finds in a Kuching's coffee shop, and then some more...


... from wok-fried noodles, so-called Western grills, Foochow noodles, Kolo, to the
pork satay.
..
.... and then there's this Taiwanese inspired noodle stall at the other end dishing out noodle and dumplings; they are self-made ones, thus they stand out from the usual suspects. They are prettily made and presented, and its potion is generous for the price one pays. The chives in the pork filling buffer the dumplings from an all meat taste, and when coupled with the pork broth with a dash of minced pork, the bowl of noodle just exults euphoria.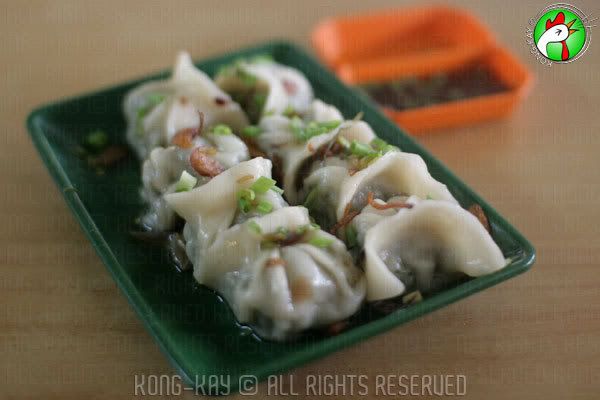 Poached Dumplings


However, the beef noodle soup is a bit of a letdown. The meat doesn't have the benefit of a longer braising time thus rendering the beef on the tough side. Its soup is a bit sour, in a rancid kind of way; couldn't force myself to finish it.
The pork satay is slightly different from that of Carpenter Street's of the Satay House's in that it's not marinated in dark soy sauce; thus its lighter complexion. Also the the meat is ( probably machine-cut) cut in one long strip rather several bits skewered together - feels different, texturally.
HAPPY CHINESE NEW YEAR TO ALL WHO ARE CELEBRATING....