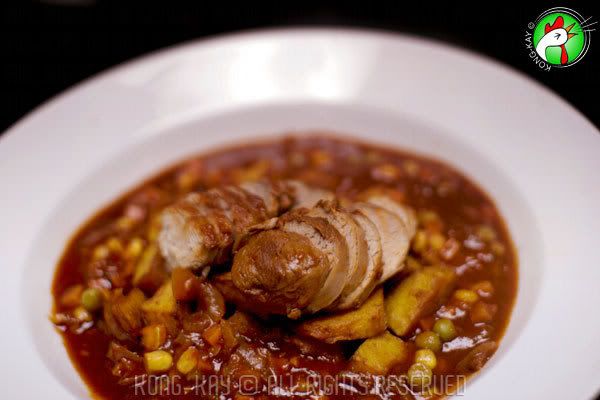 Since my butcher introduced me to this baby of a pig's (fore-legs) muscle, there's no turning back. This nugget of a meat, no bigger than a kidney (each pig only has 2), is the best there is in a pork. No matter how you cook it, or for however long, you still get the same amazing result - tender, tender, tender!










---

4 Pig's Muscle


---

1 Onion (Thinly Sliced)

---

1 Clove Garlic Minced


---

4 Tbsp. Cooking Oil

---

2 Cups Water

---

1 Tbsp.Sugar

---

1 Tsp. Nutmeg Powder




---

Salt To Taste


---

½ Cup Mixed Vegetable




---

2 Cups Pumpkin (Chunks)




---

Sprinkle Of Cornflour


---






METHOD

---

Heat up the claypot. Add in the cooking oil; when it's hot, place in the pork nuggets to seal them...

... when the garlic oozes its fragrance, scoop in the tomato puree. Mix well with the onions and garlic. Stir around to avoid burning.

... sprinkle the nutmeg powder, and salt to balance the taste. Turn the heat to low, and let the pot simmer (covered) for ½ an hour.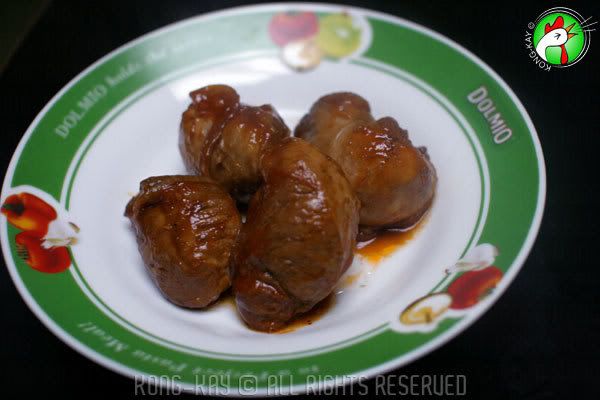 Remove the pork nuggets and let them cool.


Peel and slice the pumpkin into bite-size chunks. Sprinkle with cornflour, and deep fry over high heat. Slough them around with the spatula. When they brown slightly at the edges, scoop them out...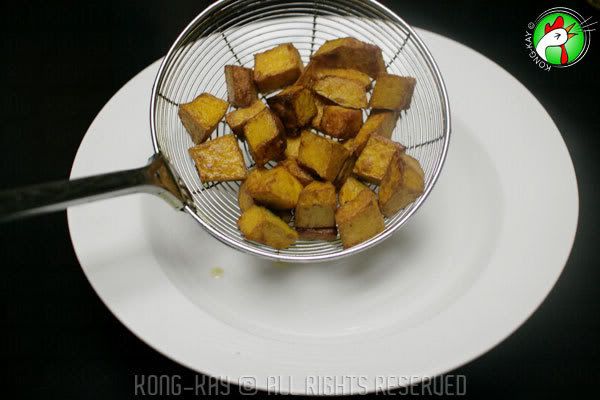 ... drain off the oil before laying them in the middle of the plate.

Slice the cooled pork nuggets, and place them atop the pumpkins. Finally, spoon the sauce around the island of pumpkins and pork.

Serve and to be consumed immediately before the pumpkins get soggy.

---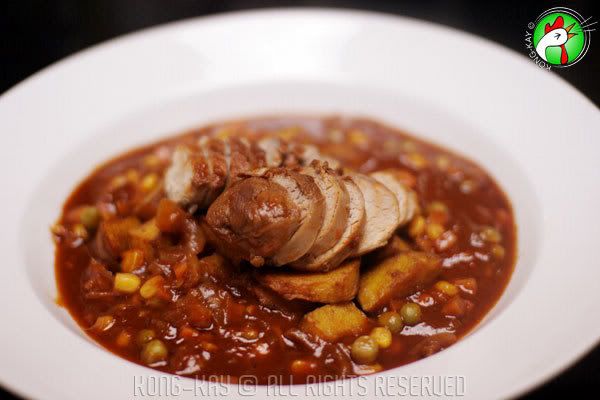 ---
If you've been paying any attention, you would have said:

"Hey, couldn't we just use tomato ketchup?"
Yes, you can!

"Why do you tomato puree then?"

Because I can! And I've got a can!

"Doesn't the dish resemble a Hainanese Pork Chop?"
Yes, going back to its roots, with a few twigs in between - probably how the

Ang Moh

would have prepared it. (Pumpkin instead of fried potatoes, and the meat isn't deep-fried with any flour coating - good for tots, presumably)