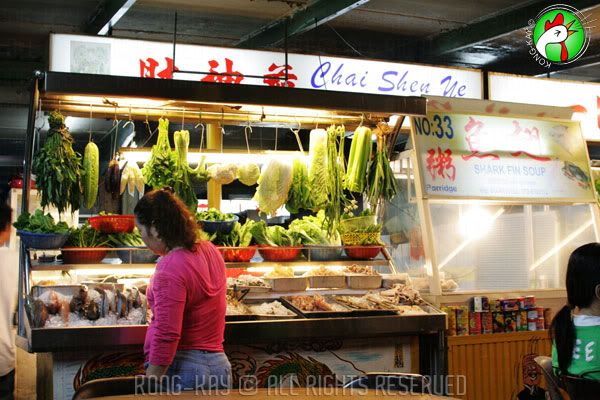 Ahhhh, the joy of dining alfresco... yippeee! The cool night breeze, the dust from the nearby road, the smell carbon monoxide from the passing vehicles and... KABOOM! ... the piss of the year-end monsoon rain. That's the risk associated outdoor dining. - moving in inch by inch inward as the rain and wind got more ferocious. If Gene Kelly did a number on "Eating In The Rain', we would gleefully would have complied.

This was the first attempt at this stall; I am always apprehensive about places like these within the tourist belt especially if you're armed with a camera. However, the display of fresh seafood on crushed ice was inviting, plus the lady in pink was very persuasive.

We had an order of the pre-cooked steamed pork belly with

Mui Chai

, fried Romanie lettuce with garlic, fried oyster pancake (Kuching-style), and homemade

N'go Hiang

(deep-fried beancurd wrapper roll). One can't complain on the quality of the food in terms of taste and presentation for a sidewalk eatery.

Surprisingly, the bill only came to RM40 excluding drinks for 3 persons. So it wasn't a total wash-out after all!