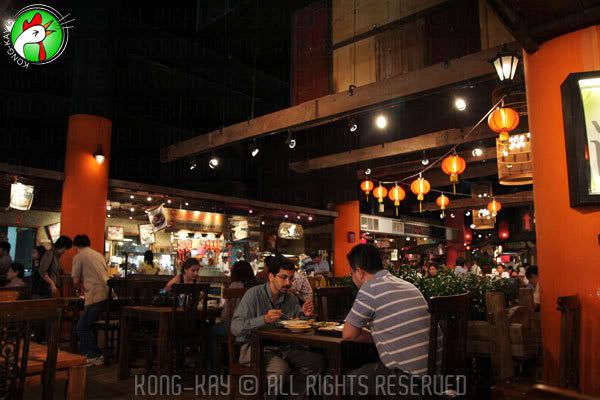 Having missed all the hullabaloo when this mall first open a few years back, this the first time I had set foot into this place. Strolled around all the levels, but entered none of the shops except one -

Page One

, the bookshop. After a while of browsing, i
ts sloping book shelves did a vertigo effect, forcing one to scuttle...

... and food was the last thing on the mind despite the fact that it lunch time. Thus the obligatory chow down had to be performed. Bought the fried fritters with soy bean milk as appetizers, while pondering on the main meal. Both the

Yu Tiaw

and the

horse hoof

were just fine, both sharing the same recipe except that one is sugar-coated sweet and the other is a bit salty. The soy bean milk sure couldn't beat

Mr. Bean's

, local soy bean's franchise chain.






Someone must have taken a liking to the local fried oyster omelette 'cos this was the second one in 2 days. For a $5 plate, even it was too much for 4 of us. The flat noodle (koay teow) soup I ordered was as ordinary as one could get despite the stall's claim to its glorious past - low on substance and bland on taste.