This is my fourth

Lo Hei

of the

Yee Sang

as we enter the 8th. day of Chinese New Year. Customary, the 'tossing of luck' is supposed to happen to the 7th. day, but commercialization rules the day; I had my first one as far back as the first week of January. The photo left shows the dish in its original form, with the sauces and spices powder poured atop already.

This restaurant is known for its shark's fin and abalone, but we were not having any of them. And the food ordered wasn't from its set package, but somehow I subconsciously ordered 8 dishes as dictates by customary banquet's rite.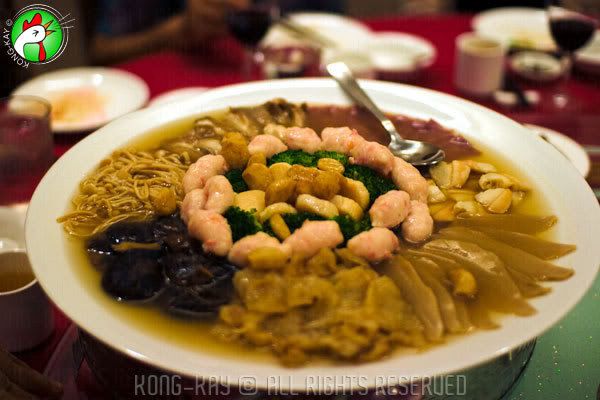 Hot Hors d'oeuvre Plate
For a change, I opted for a hot plate of appetizers rather than the usual cold plate. It consisted of varies mushrooms, shrimps balls, clams, broccoli and Chinese ham slices.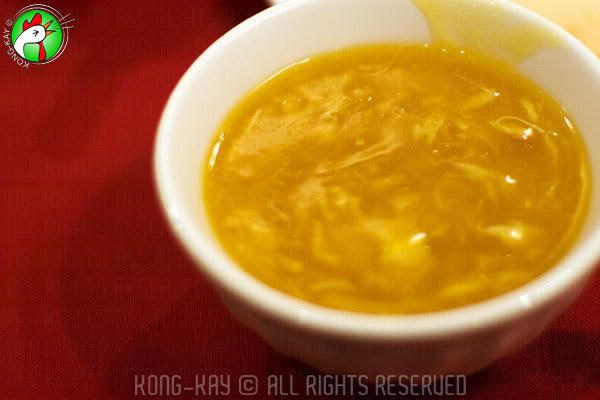 Pumpkin Soup With Crab Meat
This was followed by pumpkin soup - quite akin to the western counterpart, but not as rich in the pumpkin's content, as it's flavored in chicken broth. With the crab meat shreds and egg slurry, it somehow tasted like shark's fin soup.


Cheese Coated Shrimps
The shrimp dish is a variation on the butter shrimps, minus the crunchiness and the butter flacks. It looked like shrimp fondue; best eaten hot before the cheese congeals.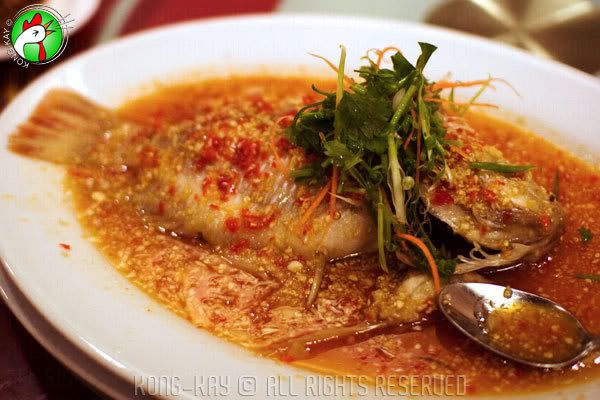 Steamed Tilapia Thai Style
A

Tilapia

fish by any other name is not as auspicious sounding enough to the Chinese, so it has to be called Fook Qui Yee. To compliment the pink color of the fish, the Thai Hot-sweet sauce with pique lemongrass scent added a nice touch to dish; if not it would have been the 'clear' (

Cheng

) Teochew steamed-style.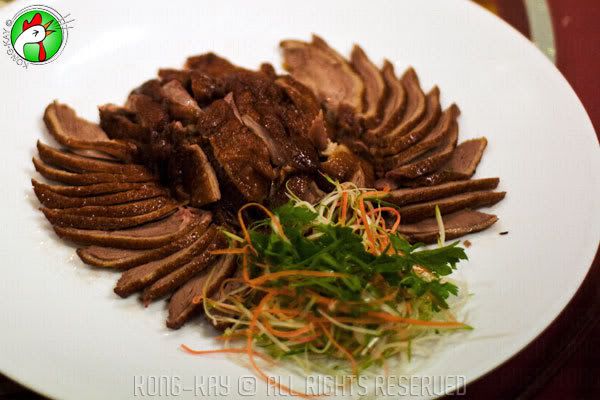 Smoked Duck With Pancake Wrappers
The smoked duck apparently is the restaurant's signature dish. It is served like Peking duck, with pancake wrappers, cucumber, lettuce and

Hoi-Sin

sauce. The meat was very lean - great!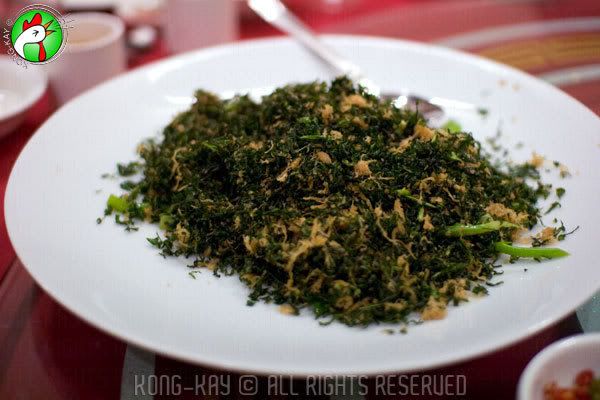 Deep Fried Kailan With Dried Scallops
Deep fried dried scallops sheds mixed with finely chopped

Kailan

leaves and its stems with light oyster sauce flavor; having tried this, you wouldn't want your

Kailan

any other way in the future. Crisps is the word!