Rather than wait for the realtor to come and collect the rental in 2 hours' time, we took a stroll down Chinatown, doing the obligatory tourist bit - photo snapping. Along this stretch (South Bridge Road), there are several places of worship of different faith co-existing right next to one another... reminding us of happier times when faith knows no bound.
..


We hopped into the

Buddha Tooth Relic Temple

and up to its roof garden. Also took a peek at a Hindu and a Muslim temple couple of blocks up , and another one round the corner... after all these multi-religious activities, my persuasion (if I have any) hasn't swayed one bit. If anyone should have problems with other people's religion should probe one's own first.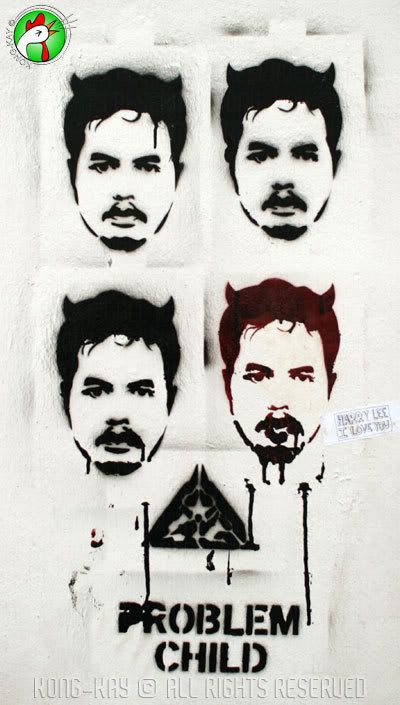 ... at the opposite end of the spectrum, we came across this stenciled graffiti on one of the walls. Somebody certainly has a sense of humor. For those not in the loop, here's a reference. He's rumored to be in Malaysia because as you cross the Causeway into Malaysia, there's a big sign on the Malaysian side that proclaims: "

Selamat Datang!

" (Selamat is here!).



As we were minding our own business taking photos, a bag lady (with all those pouches slung over her body) started shooing us away. And there was this

Ah Nia

with a parasol, whose feature struck a tone of familiarity, but somehow the name escaped me. I know she wasn't Fann Wong.





When I related the incident to someone later that night. Fann's name was the first one that popped out. I guess this prima donna is only for those into Singapore's T.V. serials.
... you're seeing the backside of Zeo Tay.