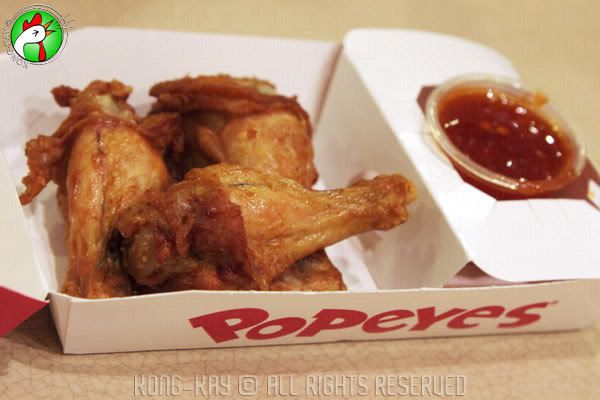 I was told there are only 2 locations where this American franchise can be found - one is at Raffles Avenue and the other one at Changi Airport. Since I will be leaving in a couple of hours' time, why not take in this

Southern Comfort

and check out what the fuss is all about?


From its menu, we selected the smallest, cheapest portion of the chicken available, because we were only sampling, and needed our pouches for later usage. The $3 chicken drummets fitted the bill, and probably represented its basic chicken recipe (that was the rationale).

The box of chicken came in 3 pieces of chicken wings chopped to resemble little drumsticks, and a small vat of chili sauce. The chicken were freshly fried or broasted, as there were no signs of oily stains on the box. As for taste, they were like chicken dipped in my home-marinade of soy sauce, sugar and pepper. Nothing extraordinary! And the chili sauce was the Thai sweet chili variety. It might be presumptuous to jump to conclusion that this is what the chicken is all about. But is it?

It was after the fact that I googled the franchise and found this; there's no a single strand of spinach in sight. I wonder what Popeye has to say about this. And its main fried chicken (crispy fried) looks nothing like what I had ordered. So I might be wrong in my assumption of its taste.