When we started stuffing ourselves silly since this morning: breakfast at

Amoy St

., tea break at

Toy Museum

, at

Sin Swee Kee's
chicken rice for lunch
,

Bangawan Solo's

Nonya cakes for tea,

Popeyes

chicken snack... and if we've had a stomach for anymore, this was something worth having a reserved space in the tummy. But we had to walk off the chicken drummets before tucking in. The airport is the perfect antidote - way better than antacid - with all its sideshows amenities. It's a wonder lots of youngsters

lepak

and study as well at the airport's concourse - far better than the library, with food, drinks and shopping inside an air-conditioned environment.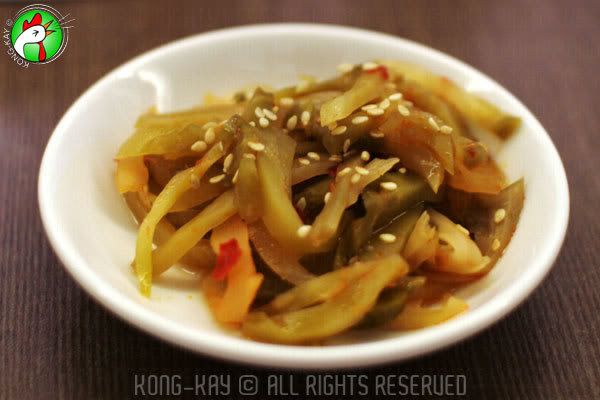 Over lunch yesterday, KC mentioned of this 'must try' place, and this is one of the 2 outlets specializing in Shanghainese cuisine for the Crystal Jade's chain.
Judging from the patrons, they are not just passengers on transit, or waiting to catch a plane; the locals do travel here for the meals and shopping as well, as mum to the tot will gleefully concur. This restaurant sits on a raised platform island manned by very attentive crew ('cos the traffic is not as brisk as Orchard Road's).

A small saucer of complimentary appetizer (well, included in the bill) in the form pickled Sichuan vegetable was the first thin to arrive together with the tea. The Xiao Lung Bao, which tasted reasonable at its other outlets, was included in the order; besides, we love l'il titties. It lacked the soup inside the wrapper, otherwise it was quite good.
The other memorable item on the last visit was the drunken chicken. Very firm meat, and its luscious skin (which I don't normally take) was something to chew upon. The wine really sunk into the meat to give it a full flavor.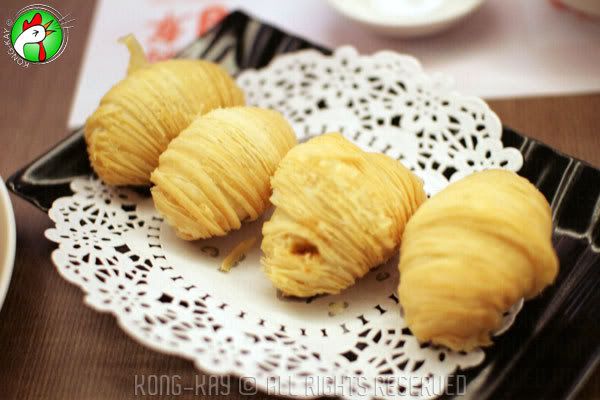 Daikon Filled Pastry


The first and last dishes looked good on the menu's photo; we had no prior knowledge of what they were going to be like. Well, the real items looked like those in the menu's photos - quaint!

The Pork Loin Strip had an uncomplicated taste as its zen presentation. The carrots and cucumber strips were not seasoned in any way, and it relied solely on the thin pork strip to weave its magic with a little help from the lightly fried garlic.

The puff pastry had flaky texture in every bite; and once you had bitten into the daikon (white radish) filling inside, it oozed the aroma of the simple root vegetable: very much like the

Loh Pak Ko - n

o fancy stuff inside. One has to fully appreciate the simplicity of these two dishes to enjoy the basis of the pork loin strip and the daikon, stripped of any fanciful mish-mash.