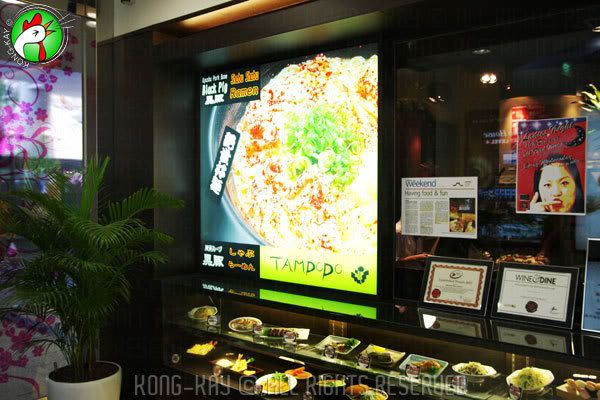 Ever since I got on the island someone had been pestering to go to

Tampopo

...

Tampopo

? Sounds like a

Peranakan

saga or a sequel to Jack Neo's movie.
Well, it's none of the above, but a Japanese restaurant specializing in Ramen. Paying mega-bucks for a bowl of instant noodle isn't part of my itinerary, but then he threw in the monkey wrench - BLACK PIG! Whatever it was it did pique my interest to give the place a go. So an impromptu 5:30 p.m. (this was after a heavy

Nonya

lunch) gathering was thrown together; I even had to grab a cab even when I was just a couple of blocks away from the place.

I'll make no pretense that I know Japanese food, having been brought up in a town that probably originates

Sushi-Tei

(We have 3 outlets in town as opposes to 1 @ Paragon, Hee!), or having been initiated into Japanese food at SOHO, NY. Heck, I can't even recall the name of the noodle I ordered, let alone spell it; I can't even sniff out a Sapporro from a Hokkaido noodle, or even it's from a pack of

Kung-Chai-Mein

... I'd just to rely on my

Ignoramus Food Gauge

:

I know what I like

Imperial Method.

This is not a big restaurant, probably measuring 20' x 20'. Banquette seating all around a conveyor belt may be nothing new, but this one adds a twist to the old conveyor belt sushi system; it has glass panel all around disallowing any customers interaction, with an opening on the glass next to each table. Food goes through its motion, and then pushed out of the opening at its designated table. However, soup stuffs like the noodle are still delivered the old fashion way.
Despite what I said earlier, the noodle is nothing like the dehydrated ones from a packet; it doesn't have the air-lightness to it, it carries some weight like your

kolo

or

kampua mee

. Then there's the broth, which boasts 2 hours of brewing time; it's strong and robust, making msg. obsolete. The runny 'smoked' hard boiled egg (below) is one of the components of the different types of noodle.

Ah, the Oink! A pig by any other name is still a pig... be it Berkshire, Black Pig or even our local

La-K'nia-Too

; however, this one decidedly is different, besides stress free (as bottom right suggests), it's kind of treated like royalty until slaughtered, very much like

Wagyu

beef. Well, the proof is in the pudding; it's tender and sort of melts in your mouth with effortless chewing. At the end of it all, it's the marinade and braising that gives the meat its final taste and texture. To make sure we doubly appreciate the wonder of the pork, we ordered a piece of the fried pork shoulder to be shared all around. Exquisite!

For those of us who don't have the opportunity to travel to the motherland to savor the original stuff, this is as good as it gets to get a whiff of the grandmaster porky; as Yogi would say:

It's better than the average pork!