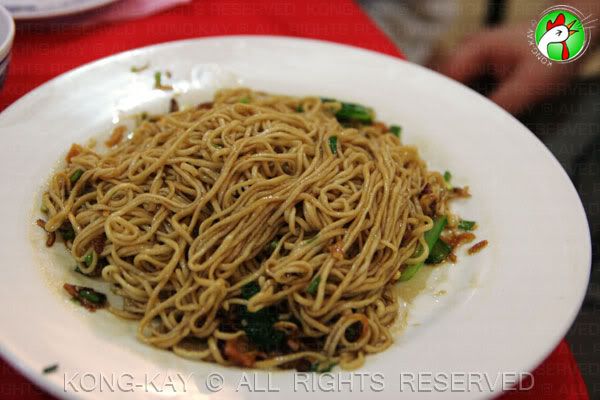 I bet a lot of people doesn't associate this restaurant, which is better known for its chicken rice lunch, is famous for the the town's favorite noodle in its own right. It might seem most peculiar for a restaurant to serve such hawker's fare, but then there are a lot of dishes of mixed parentage that pass through its kitchen. Such is the forte of this restaurant - please-them-all-knock-them-dead-kinda menu! And it's the last of the old-school restaurant that is still standing.


We were here for the usual stuff - chicken rice, streamed fish, and the time something different:

ching-chieng

; well, that was the initial pre-order until they screwed it up with a plain old

sui-yuk

(roast pork belly). Despite aplenty of food before us, we ordered 2 plates of their

kampua

.

Kosong

!
Sans

char-sui

.

With all the meat all around, who needs more meat on the noodle? Incidentally, that's the way they serve it here. (I hear, if you only order

Kampua

, they'll politely tell you that they've run out of noodle.) Might as well, one gets to taste the real deal without any other ingredients getting in the way. The raw noodle is the same as those made elsewhere in town, so what's so different about the noodle here?

The noodle is almost al dente (not soft like

Ang Kow's

) and has all the characteristics of the good old

kampua

. That's where the similarities end; I think 3 words describe the noodle best:

Indomei Mi Goreng

! If you've no idea what I'm talking about, head to your nearest supermarket or Chinatown and get a packet of this Indonesian made noodle, and you'll understand what I mean. In its original pack, it contains 3 sachets of chili flakes, fried shallots, seasoning plus a combo-packet of fragrant oil and
dark soy sauce. It's the seasoning and the fragrant (shallot) oil that makes the noodle stand out from the rest. That's what you get for the noodle here: same aromatic essentials to make it a delight. It makes you wonder whether they just use

IndoMei's

sachets (since there is [or was?] an

IndoMei

factory in town).
Nah!!!