| | | | | | |
| --- | --- | --- | --- | --- | --- |
| | | | | If you thought all hope of ever finding good food on this lone highway is lost, then you haven't come across Mui Fah, located on a stretch of township as you approach a town with a explicit-sounding name, if you are traveling eastward. This is the second coffee shop from the corner... you won't be able to miss it with all its ducks hanging inside its glass display case. | |
I think we ordered ½ a duck for four persons. The duck was meaty, without any traces of fat; nice shiny brownish hue of the soy sauce. The best part was that natural goodness of the duck flowed through its saucy gravy, and not a hint of 5 spice, star anise or cinnamon. The meat was just braised succulently to the point where it didn't exhibit a bit of roughness.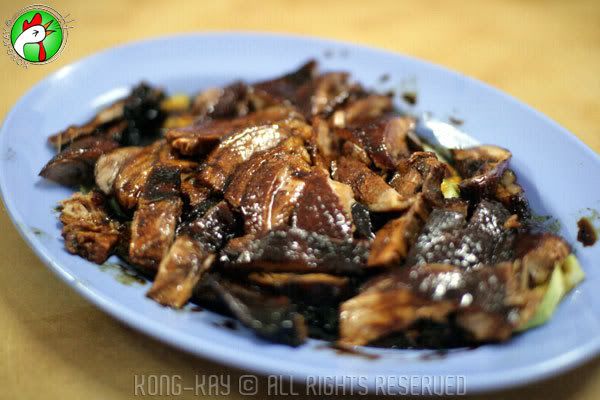 To accompany the duck, we had a bowl of minced pork stuff fried tofu soup. Nothing spectacular. As for the price, it wasn't any cheaper than the one in Kuching, nor was it any more expensive.