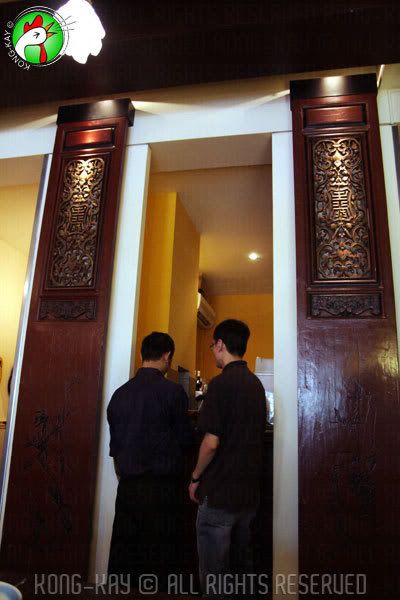 This lunch was something of a surprise in a way... a Singapore-based blogger had graciously accepted my request to meet up... you never know who you gonna meet. She brought along hubby plus a l'il tot, while I was tagged by a big tot. I think she got a bigger jolt seeing us - not what you'd expect of Kongkay & co., eh?


We went to a

Nonya

joint that

KC

suggested. It's been a while since I last had Southern

Nonya

food. It has some neat touches that gives a soothing feel to the place.

KC

did the ordering of the food, which was way too much for 3 adults and 2 tots! Alas, food only comes in secondary... meeting under the pretext of food was the new social order of the day. And true to her blog's namesake, one will understand why tending to one l'il tot can be a full-time occupation; she came fully prepared with all the paraphernalia (bowl, spoon etc.) for the l'il one.

First to arrive at the table
were the complimentary

Sambal
and
Acar

,
the sourly appetizer to whet one's appetite. The

Ngo Heong

(all spellings derived from its online menu) was crisp and very subtle on the 5-spice flavor, of which I prefer.

Although I had tried the above dish many times before, this is my first attempt at digging into the

Buah Keluak
, since becoming more food conscious. The flesh of the nut tasted like black olive and its texture feel the same too. The chicken has a hint of the nutty taste on its own, but coupled with the chicken, it's like

Vegemite

caviar. It's an acquired taste.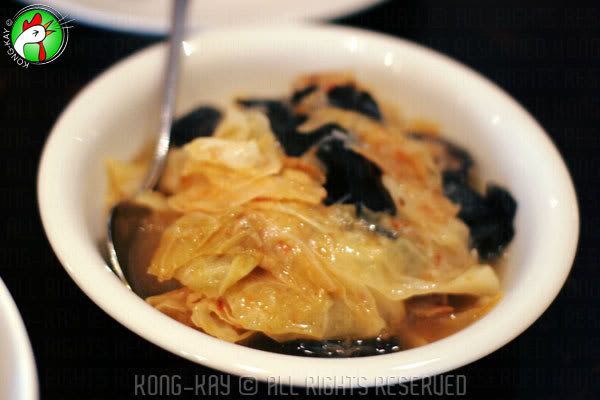 Chap Chye Masak Titek
This is a simpler version of the

Nonya

mixed vegetable.
Babi Hong
We call this braised pork leg

Hong Bak

at home;

Babi Hong

sound derogatory on the Hongs family.
The whole leg looked nice on the outside, and the meat was braised just right - not fibrous and yet not too soft that it fell apart when cut. This leg was lean all the way except for the skin.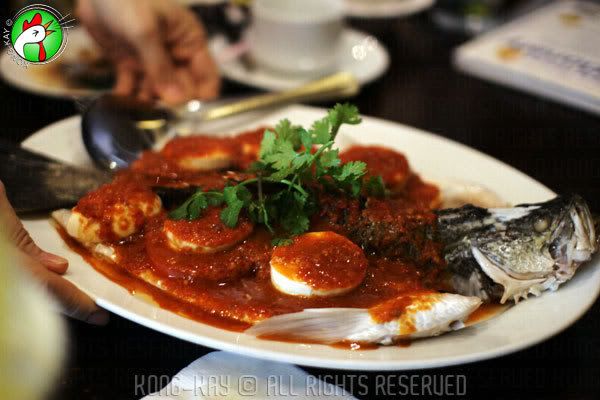 Steamed Seabass Nonya Style
The deceptively red hot looking fish was comparatively tame
. All the red color was fermented beancurd, according to the description on its menu. However, there wasn't a trace of that ingredient in taste or smell. Couldn't be tomato puree, as it wasn't sour. Although these are not
food for tots
, I guess, both tots had a swell time enjoying the spread.
Just this morning over breakfast at Beach Road, my mom commented on my obsessive taking of food photos, and asked what I have gained from all those '
bo-e'ya, bo-ciap
'. Well, this was one of its moments as a result of someone's malfunctioning
Emergency Relief Fund
. Crude to say, it was a blessing in disguise, otherwise the
Emergency Relief Fund
will be rendered useless in time of emergency.