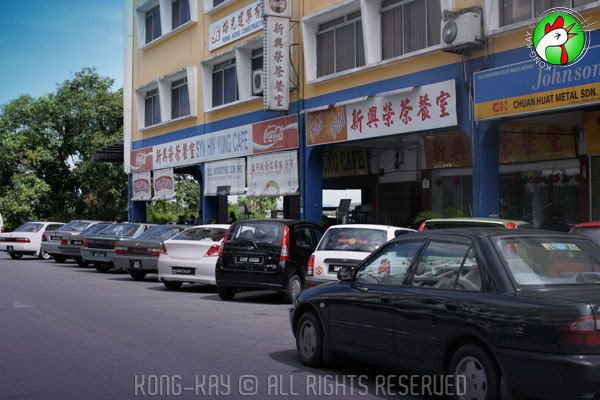 This is one of those "as I was passing" kind of eateries because it's off the beaten path for me. I got to know of this place via

Lau-Ta's

pork leg's rice, which has long been put out to pasture. This coffee shop runs a

Zi-Char

, whose food are popular with the lunch crowd. Its peripheral stalls are of unknown qualities.

As far as noodle goes, this one is passable... I think with the mixture of all the parts in the soup, anything will come out okay! Those different parts are generous so one can't fault that. The

Wonton/Kiaw/Pian-Nik/Pan-Sit

(whether you're Cantonese, Teochew, Foochow or Hokkien) doesn't skim on the meaty part either.

The side order of the Yam cake doesn't exactly inspire any word of praise. Its content is too diluted for its on good... light on substance and flavor. Well, at least the vat of chili sauce condiment drowns out any deficiency it might have.
I remember Peter recommending the

Sabah's Noodle

in the comment post. However, this visit was done ages ago, and I'm in the process of clearing "long overdue" posts. I'll return for the said noodle in the not too distant future.