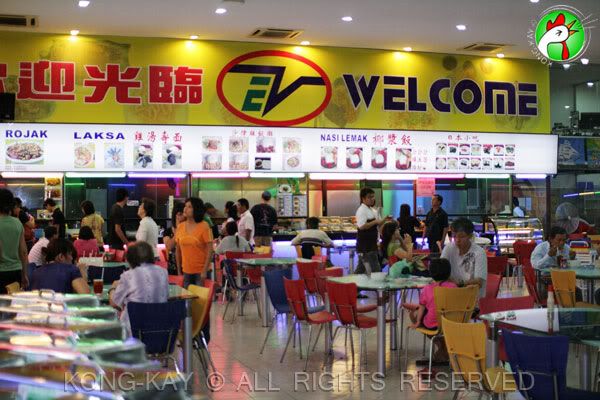 It was one of our exploratory nights; the lady, whom we call

Ta-Jie

(Big Sister) at the Esplanade Seafood, has moved camp together with the chefs to the new food court at Everwin behind the Bus terminal. The Zi-Char at the very corner of the food court had just started business, and there wasn't any sign indicating its existence, even though there was a blank slate of a signage. I was told that it would be called

Everwin Chang-Tien

, which is loosely translated as 'Everwin Diner'.


This is the very food court that STP "

Hiam Ka Bo Chee Tay Ho

" (cursed until there's no redemption) for its lousy food and service. We didn't encounter any problems with the drinks order; however, the waiting time for the food was another story...
I don't take too kindly to pig's trotter, where it's slimy at its hoof; but this is an exception, because the whole leg is fried to a crisp, and I found myself sucking at its end like a fetish to Duchess of York's toes. Our leg wasn't as presentable as the one above as

Ta-Jie

had taken the trouble cut it up for our convenience.
Having lost my

Butter Kailan

photos of my visit to Nice House, I casually asked

Ta-Jie

if the cook could whip out one. Easy-peasy, she said. True enough, it was nice looking and tasting one (below). All the niceties of a butter shrimp's taste minus the guilt, in a way, but I'm sure Dante wouldn't be so forgiving.
The last of our dishes was the bitter gourd. Notice the funky-looking salted egg yolk? It ain't round... and the sprinkle of century egg bits added a nice contrast of color and texture. The 4 items with rice came to RM60 for 4 persons.