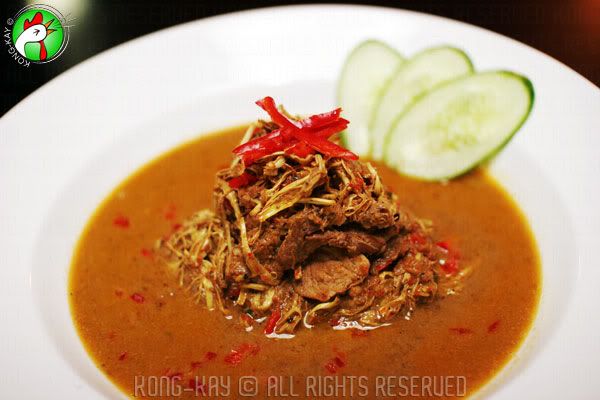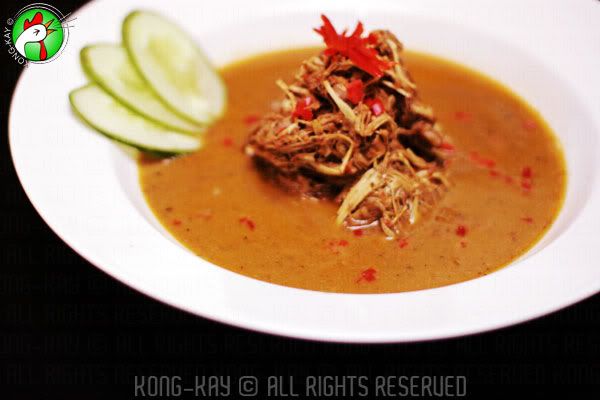 I was at a pot-luck dinner a couple of weeks ago, and Mr. Loh mentioned the sale of durian flowers at the 3rd. Mile bazaar. He also divulged into the way he prepared the flowers prior to cooking. Interestingly, a few days later, a batch of durian flowers arrived from Siburan courtesy of Mrs. Si.

By the time you read, the durian flower season is probably over. These flowers are not plucked, but fall from the tree on their own.

I fall back on the trusted recipe of red curry paste, but added kaffir lime leaves for the extra citrus flavor. And I bought a tub of freshly squeezed thick coconut milk from Satok market, albeit cooled in the fridge.











---

10 Shallots


---

4 Red Chilies

---

2 Clove Garlic


---

1 Pc.

(15 gm.)

Belacan Paste


---

1 Knob (10 gm.) Galangal


---

1 Tbsp. White Peppercorn

---

2 Stalks Lemongrass




---

4 Kaffir Lime Leaves


---



OTHERS

---

125 gm. Durian Flowers




---

150 gm. Pork Fillet

---

1 First Pressed Coconut Milk




---

Sugar & Salt


---






METHOD

---

Blend all the top ingredients into a paste.
Press the thumb and index finger at the middle of flower petal, and slide towards its top end to remove the 'pollen bits', which produce slime. Dose the 'cleaned' flowers with hot water, then quickly remove and bath them in iced water.

Heat up the wok with 4 tbsp. of cooking oil in it. Drop in the curry paste, and keep tossing it unti

Heave in the sliced meat, and thoroughly mix them with the paste.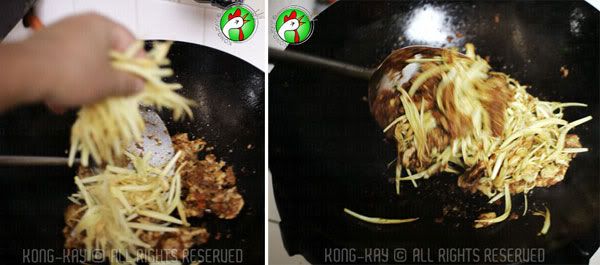 Once the meat is no longer pink, it's durian flowers' time to be sauteed. Give it about 30 seconds toss.

Pour in about ¾ cup of water. Stir well into the meat and paste. Let it simmer on medium heat to reduce the liquid slightly.