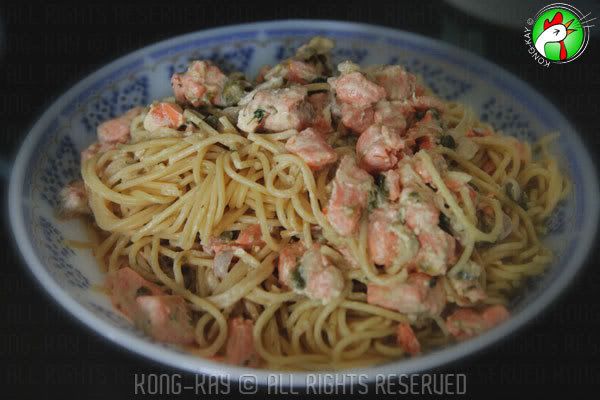 Julian did this dish quite sometime ago. I finally caught up with him recently, and had him write up the the step-by-step procedure himself.

It's good to be buddy-buddy with your wine merchant, not meaning you have to get drunk with him. There are times, when you need more than some of the red or white stuff for your cooking, but not willing to shell out more than you have to for the dish. This is when Thomas from

Oriental Wines & Beverage Sdn. Bhd.

(084-331780/331781) comes to the rescue. The wine I got is what Indonesian calls: "Gratis". Don't ask why or how; they are perfectly good wine. (

Oh, you may not be familiar with the name, but might have drunk his stuff at Victoria Arms or Soho; those in-the-know know where to find a good deal.)



So in his own words, take it away, Julian...








---

2 Stalk Minced Green Onion


---

Juice From 1 Lemon


---

6 Sliced Shallots


---

1 Tbsp. Dill


---

2 Tubs Sour Cream




---

1 Bottle White Wine


---




METHOD

---
First make a broth with the shell of 1 crab by simmering in water to cover for 30 minutes.

Prepare the aromatics:

Slice the shallots. Finely chop the garlic and spring onions, and Zest of 1 lemon. Roughly chop the capers and dill. Set aside these ingredients.


Prepare The Salmon:

by removing the skin and discarding. Remove the bones from the salmon with a pair of tweezers and ...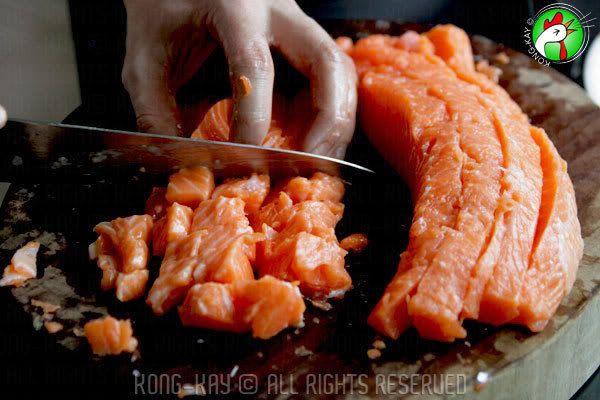 then dice the salmon to 2cm cubes.

Begin the cooking by sweating the shallots on a medium heat till soft followed by the garlic, spring onions, capers and lemon zest, cook for 1-2 minutes without burning.

Deglaze the mix with 1 cup of White Wine and the Crab broth, then simmer. After 2 minutes add the juice of 1/2 a lemon.
Add the tub of sour cream to the broth mixture and simmer the sauce. Check the seasoning, it should taste sour and salty, if not adjust accordingly. Stir through the chopped dill.
Turn off the heat and add the Diced salmon. The residual heat will be enough to seal the salmon, which will be cooked to medium rare.

The salmon will finish cooking when the hot pasta is added to the mix. Stir and mix the pasta through the sauce carefully, making sure not to break up the salmon pieces. Serve up the pasta in 1 big bowl or divide evenly.
---