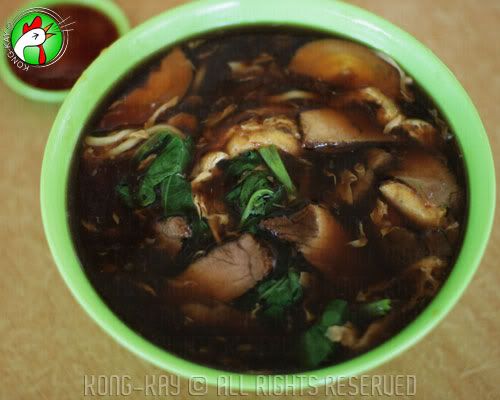 At long last, Ghim Eng's

Loh Mee

is back!!! The last time I had it was way back when she had her sister working with her; with her doing the frying, and her sister preparing the

Loh Mee

.

Being a lone ranger has taken its toll at the old place at the center of CBD. And now at the new venue, business hasn't quite found its bearing; so she has more time at hand to dish out the

Loh Mee

. After all, the

Loh

part, which consists of braised pork and eggs, is cooked way ahead. And the only cooking part that is required before serving is boiling the noodle, kangkong,

taupok

(fried tofu) and the

Loh T'ng

(soup).

For those of you wanting to keep vampires or the office

Ham-Sak

at bay, you're well advised to request for extra dollop of minced garlic on your noodle, or even the chili sauce too! It not only brings the 'Oomph!' to your

Loh Mee

but to social life as well. You'll be the talk of the town!