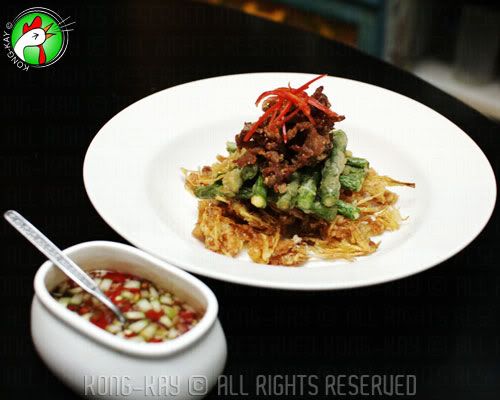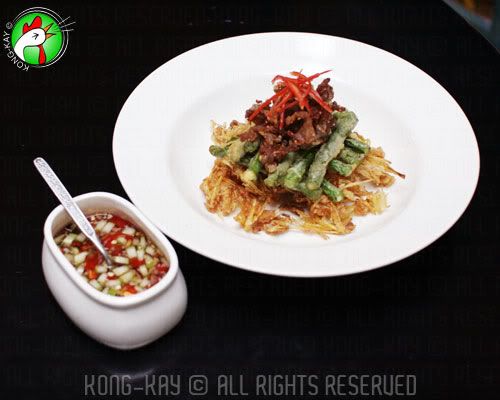 I was awaken by my handphone on a Sunday morning... it was barely 8! An unfamiliar voice was at the other end. "This is Mrs. Loh!" Groggily, I couldn't figure out... "I've got durian flowers for you! I'll be there in a while." Before I could make myself decent, there was a hoot at the gate;
and before I got down to the front door, she was there already. "This is the last of the durian flowers!", she declared before leaving.

By the time you read, the durian flower season is probably over. These flowers are not plucked, but fall from the tree on their own.

How would one cook durian flowers differently? Not the native ways; Think outside the wok...












---

70 gm. Durian Flowers


---

3 Stalks Long Beans (3" length)

---

70 gm. Pork Fillet (Julienned)

---


DIP


---

1 Diced Shallot


---

1 Stalk Diced Lemongrass




---

1 Diced Red Chili


---

2 gm. Belacan Paste




---

10 gm. Diced Seeded Cucumber




---

2 Tbsp. Sugar


---

1 Tbsp. Fish Sauce




---

2 Tbsp. Water




---

1 Tbsp. Rice Vinegar







METHOD

---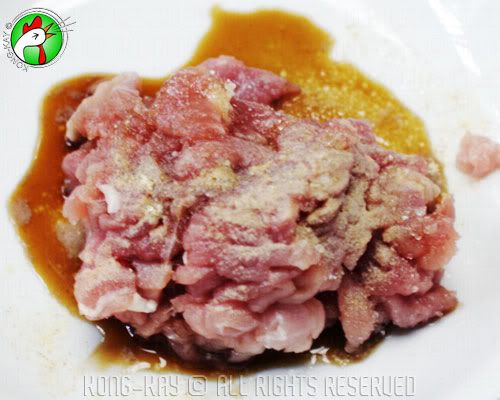 Cut pork into strips. then marinate with the following:

2 tbsp. light soy sauce
• ½ tsp. white pepper
• 1 tsp. sugar

\

Use the hand to massage through the marinade with the pork. Set aside in the fridge for at least 15 minutes before use.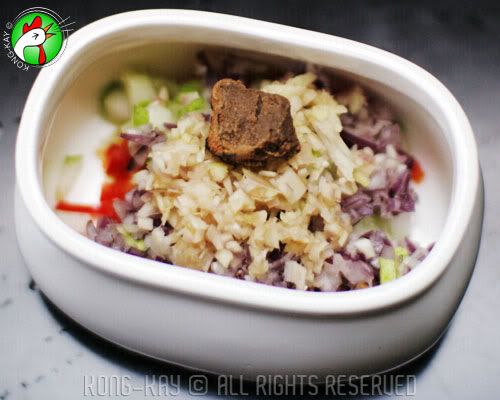 Lightly toast the piece of belacan over open flame on the gas stove's burner.

Then mix to dissolve with the dip's other ingredients. Then fine tune the saltiness (fish sauce), sourness (vinegar). and sweetness (sugar) to your preference.

Put enough water in the wok over high flame. Quickly blanch the Longbeans, remove, and run through cold water. Set aside.

Dust the meat with 1 tbsp. of cornflour. Shake off excess flour before dipping them into the wok.
We start frying the meat first as it takes the longest among the three. Bring the temperature of 1 cup of cooking oil in the wok. Use chopsticks to jiggle the meat so they don't crumble together. As they are about to turn golden brown, scoop them up onto paper towel. Set aside.

Likewise, dust the durian flowers with cornflour, shake off excess flour...



... then deep fry the same way. It takes only about a minute to reach a crisp state.


Beat 1 egg with 2 tbsp. of self-raising flour, some ice cubes, and a sprinkle of water. Dunk the longbeans

Drop the coated beans into the hot oil. Use the spatula turn the beans and bath with the oil for about a minute. Remove and start assembling the fried items starting with the durian flowers at the bottom, the longbeans in the middle, and topping with the meat.

To maintain the crispiness of the fried food, scoop spoonfuls of the dip and spread over the food just before they touch your mouth.

---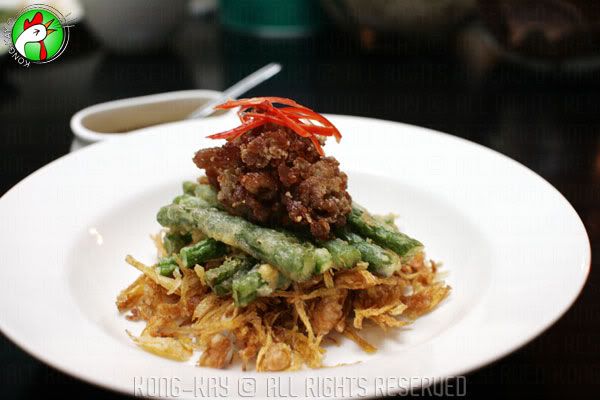 ---