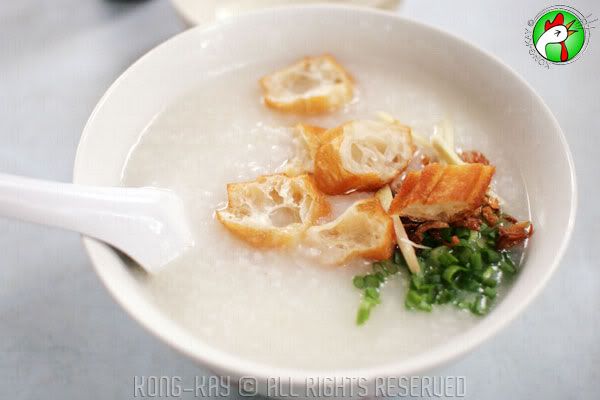 It's the morning after in KL, and my friend drove across the highway from his apartment to row of shop houses off the highway. This is his usual morning hop for breakfast; it's a busy roadside eatery, with food stalls lining up the walkway opposite the coffee shop, or so-called restaurant.

He ordered his usual morning grub of meat porridge with salted egg (above) to be shared between 2 of us. When the order came, he requested for an extra bowl and bowl, the lady replied : "Take them yourself!"; that was a friendly banter. As I was taking photos of the porridge, the lady was saying in Cantonese about something her stall was renowned for; then "Plonk!" a pile of fried pig's intestine landed on top of the porridge. I wanted to pay for them, but she uttered: "

Um-Sai

!" Such is the power the camera welds, sometimes it has its adverse effect, of which I won't give free publicity to.

Luckily I take the fried intestine, of which my friend doesn't. Well, well, you learn something new everyday... salted egg in porridge and fried intestine! The intestine was fried to a crisp, and it tasted in texture a bit like

U-Cha-Kueh/U-Tiao

(fried fritters). The porridge was Cantonese

Chook

. Nice!

From another stall, 2 variations of

Chun-Fun

were ordered: curry and the classic, which is different from the Hong Kong style. They are plain rice noodle with different toppings of sauce and a sprinkle of fried tiny dried shrimps. Basically, it's like having rice noodle with light curry, and shrimp paste sauce.