Hardly an hour after breakfast, we were here for brunch. Someone was here to fetch me to the country... Sierramas, Sungei Buloh; away from civilization!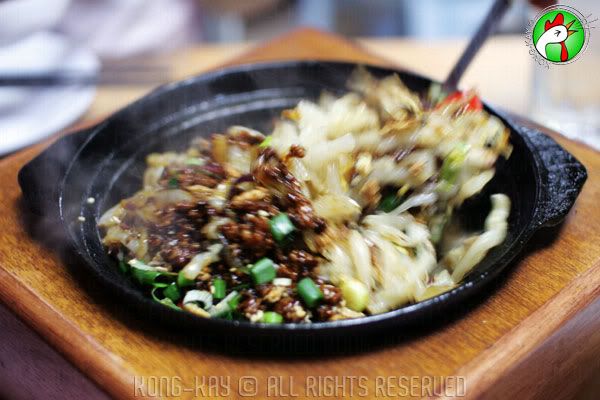 This isn't far from where we had breakfast earlier. So there were four of us now to tuck in whatever this establishment had to offer. It's famous for is fish head soup beehoon (vermicelli). Like the signboard above the shop suggests, I think it comes with a dash of XO liquor on request. We had a claypot of its signature dish. Beside fish head, there were preserved mustard green and tomato; and the best part of all was its soup - unadultarated 100% pure white fish stock, without the milk.

Another of its noodle we had was teardrop-shaped rice noodle. It came in a hot plate, topped with minced pork paste and garnished with fried dried shrimps and green onions. One has to toss the noodle to mix and blend in the ingredients. The whole dish came off as semi-poached and fried, as the noodle was seared by the hot plate - a different feel in the mouth!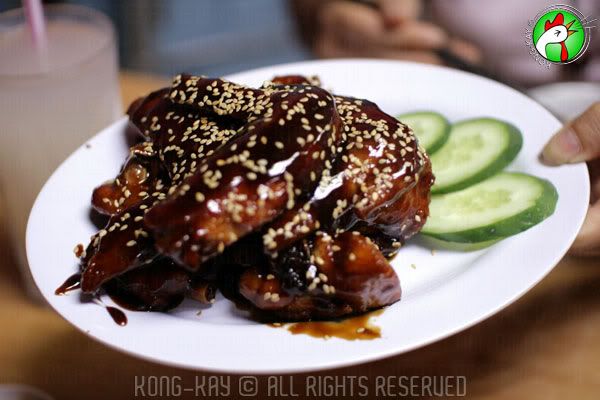 Grilled Chicken Wings With Sweet Sauce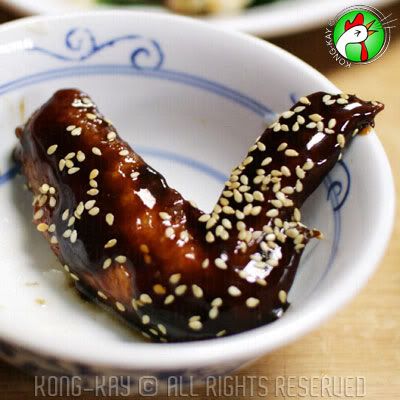 The other 2 side dishes we tried were the grilled chicken wings, and fried pig's stomach. All the dishes were wonderful in their own right, each teased the palate in a different kind of way. Inclusive of drinks, the whole meal came to RM57.

By the time we were through, it was noon time; the waitresses started putting the "reserved" signs on our table, and others too. It showed how popular the place was, with people placing reservation for their lunch at this place. Friendly and knowledgable staff, who certainly know their food to make everyone placid customers.


Fried Pig's Stomach with Fried Dried Shrimps Bits