Finally settle down a bit to upload some photos do this piece. Normally, I blog my travel piece when I get home; this is an exception as I got my photo templates in my portable hard disk, but not my laptop, though - this is done on a borrowed PC.

It's one of the rare opportunities I exercise the option to use the
Monopoly's
"community chest" card ie. a request to meet another blogger by just being a blogger. Although we'd exchanged niceties through each other's blog, we hardly know each other beyond that. As I was going to be in K.L. for a couple of days, I dropped

Babe In The City KL

a line, and a dinner meet-up was set. This was the second time I was going on a

blind date

outside Sarawak. - the other time being with

Food-4-Tot

. As Forrest Gump would say, "Life is like a box of chocolate..." I can say, it was tuti-fruitti this time 'round.

Minutes after I touched down at KLCC, Babe called to make arrangement for the evening; she wanted to know the number of persons were coming as I was putting up with a friend, and my friend had the same query for her. In the end there were 5 adults and 1 kid. Despite her attempt avoid at last minute gaffe, the 'uncle' from the restaurant refused to take any reservation.

By the time we got there, Babe and Ken (sic) were already seated at the first table by the main entrance anticipating our appearance (we already told each other what we would be wearing); we came in through the back entrance, so I had a few seconds advantage over her. Well, her moniker fits her appearance... the pair could very well be Ken & Barbie!

Babe chose this very restaurant for its old school kind of food. It still retains its old charm in its next door fan-cooled barn-type restaurant (photo below). Nostalgic food was the order of the day, as per recommended by the

Ah Ee (Chei)

of the waitress-in-waiting. We, or rather I, was so engrossed in the conversation that food wasn't on the agenda. But still, I think, we cleaned out the plates... that said something about the food.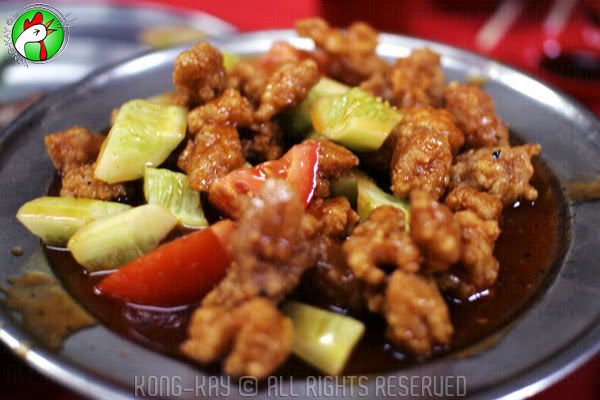 Sweet & Sour Pork
The

evening
wasn't so much about the food but the intersection of minds with common interest. Later we adjourned the the street alley across the street for some

Tong-Sui

.