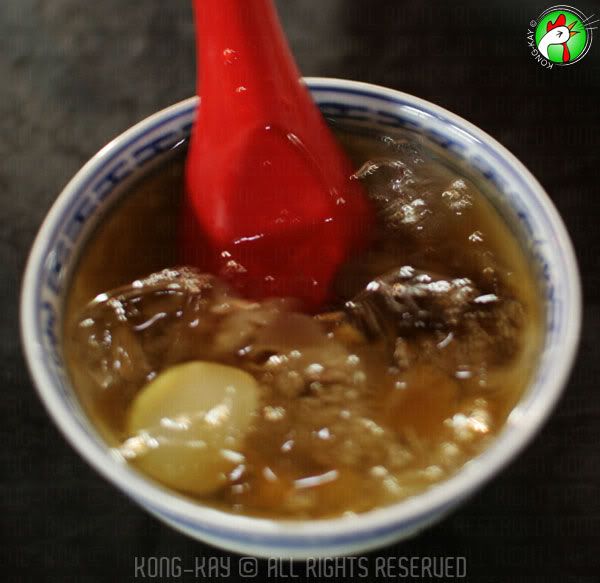 After dinner at

Sek Yuen

, we take a stroll down Wai Sek Kai (I think, translated as glutton street). It's a

pasar malam

(night market) of sorts, with hawkers selling a variety of food and drinks. According to Babe, it's a game of chance one has to take when buying your favourite food here; as the stalls open and close on certain days at their own pleasure. We are here for the Cantonese dessert drinks -

Tong Sui

(literally, sweet water). This is what we call

N'go Mee T'ng

in Sarawak, but with a difference; there's a hard-boiled quail egg in it.

The hawker stalls occupy both sides of the street with tables and chairs lined up adjacent to the stalls, leaving a passageway as thoroughfare. There's a stall selling streamed yam cake (above right)...


...

Nonya Kueh

and porridge...
... grilled cuttlefish and tofu ...
... and the herbal tea to dispel any "heatiness" as a result of eating too many fried chicken (right). This particular stall seems to be doing a thriving business selling fried chicken parts, and its prices aren't that far off from KFC's.

This post and the last one are made possible through the sponsorship of

Babe In The City - KL

and

Capt'n Hook

. Thanks for showering me with the good times!