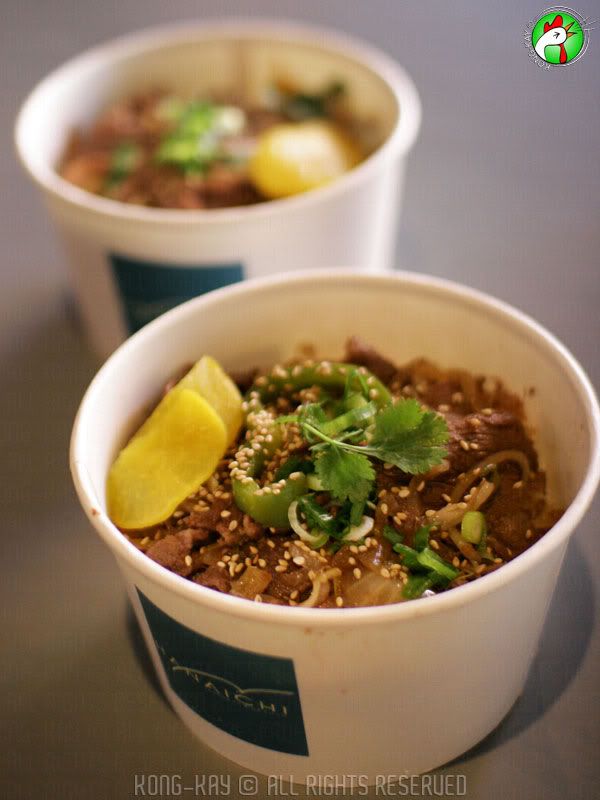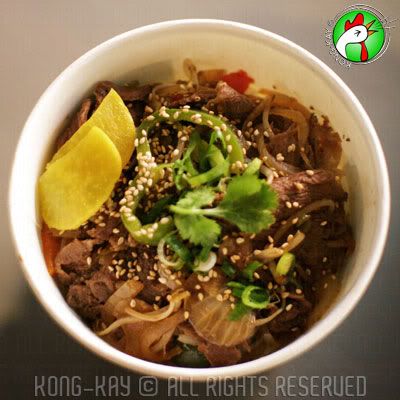 This is a fairly new establishment up on the upper concourse level of the QV. It's a Japanese fast food joint, serving traditional Japanese food. It's over-the-counter service, with its whole range of 8-items-menu fully displayed on the light-box behind the counter;

wyoiwyg

... more or less.

One thing you can't complain is its price. The Beef Yakiniku we had is only $6.50. It's marinated fried beef with onions, green pepper, daikon and sprinkle of sesame seeds on rice; all served in a paper tub. The potion is small by the standard here, but substantial to pull us through till dinner at 8, 9 or 10 tonight.

Most of its items are obviously pre-cooked, because the wait at the counter for the food was about 2 minutes. Presentation-wise, it looked good. Definitely tasted fresher than airline's food.
The place offers ample seating within its premises (one deck up on the side), however, there are quite a number of long tables afforded out in the open concourse for those opting for al fresno.