You can't get more authentic than this with a name like that!
With a Thai origin owner and a few TigersThai girls as waitresses to boot (Oh-la-la!), that's as much as saying all Ipoh girls are beauty queens, and all penangnites are fantastic cooks, by some definition of 'authenticity'.

Rambling aside, we're here to spend some of doc's weekly food-tax relief. We arrive around 7, before the crowd gets in, with a table already reserved. Half an hour later, the place is jam packed with all Asians customers - Thai, Indonesian and Malaysian (that's us). Hey, this place even has a girl on guitar, presumably Thai, delivering folksy English ballads, which is sadly lost amid the chatter.

The green papaya salad packs quite a punch with its fire-cracker of a chilli. It numbs your mouth silly to give it a thumb-up; it opens the taste buds for what are to follow. The green curry, however, is mild in comparison, which provides a good splash-over on the rice. Then it blows hot again with fearsome looking red hot Tom Yam soup, which works up a good appetite. The only compliant is its liberal use of sugar in the last 2 dishes.
From here onwards, the dishes take leave from its boisterous root, and takes on a slant more akin to Chinese influence; as evident in the spare-ribs, the

kangkong

and the batter-fried fish fillet. One would think they are Chinese if you weren't in a Thai restaurant.

Deep-Fried Spare Ribs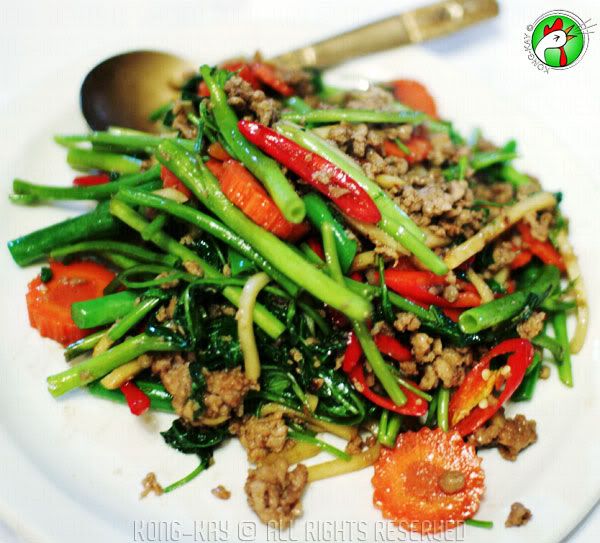 Fried Kangkong With Minced Pork

Three Flavored Fish

The fried pig's hock isn't quite similar to Pinoy's one in that its skin isn't that crispy and crunchy. It's a cross between a braised and fried one. The hot and sweet dipping sauce makes the dish come into its own.
Deep-Fried Pork Leg