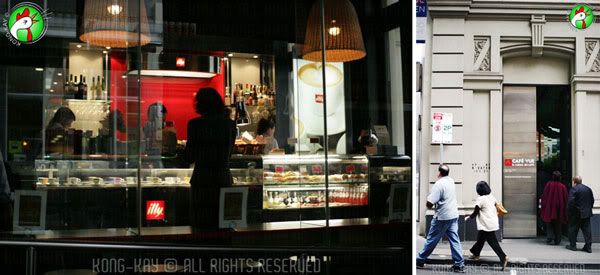 Julian on his day off, came to take us for lunch. This cafe is, I assume, the lowest echelon of a trio of French eateries; the other two being

Bistro Vue

and

Vue de Monde

, a Chef's 3 hatters and Melbourne's best restaurant for 2009. The tiny unassuming doorway (top right) leads to a narrow corridor with banquette seating on the left, while the cafe is in a glass windowed enclosure opposite, with seating inside as well.

We were here before noon, slightly ahead of the lunch crowd, and managed to find a table by the corridor. The waiter came and rattle off its off-the-menu offerings. We ordered a set of the Lunch Box, even though we didn't quite catch a word of what the waiter said it was. Then we had one of its vue burger with pommes frites; yes, an American entity in a french venue. Lastly, there's the Yorkshire pudding, ordered 'cos of its name, but I was warned that it's a small dittily. But it seems everything served are petite...


... indeed it was small; yet the 3 of us took a sampling bite of it. The long yellow wiggly is the mash. And the dollop on top of the pudding is its gravy, and with 2 strips of bacon like wagyu beef at the side topped off a delatible offing. For a yabby out of the water, everything tasted great.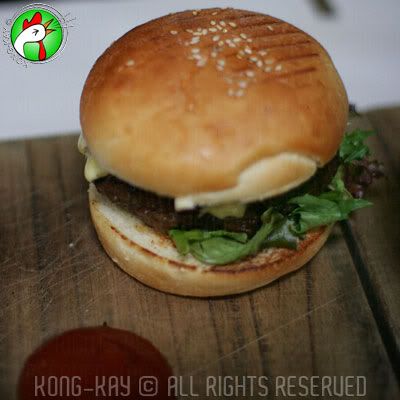 What's there to be said of a
wagyu beef patty sitting on a bed of salad greens, topped with cheese and
mayonnaise, all sandwiched within a
lightly toasted, sesame-seeded bun? The thick slab of patty is welled seared on the outside, and yet moist on the inside with no pinkness or juice. A sheer joy to bite into without the firm patty falling all over you - alas, for about 3 chomps! That's all i
n praise of a lil' bugger.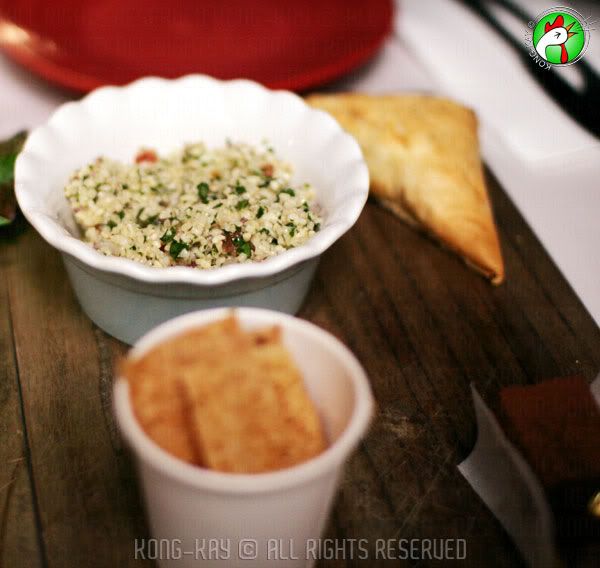 The Lunch Box is a Pandora's box of sort 'cos you never know what you're gonna get. It changes monthly with its full course of a meal - from starter, salad, savory to a sweet.
This month's box consists of Smoked Salmon Rillette (dip with chips), Tabouleh Salad (cous cous), Hare and Pumpkin Samosa, and Caramel Slice.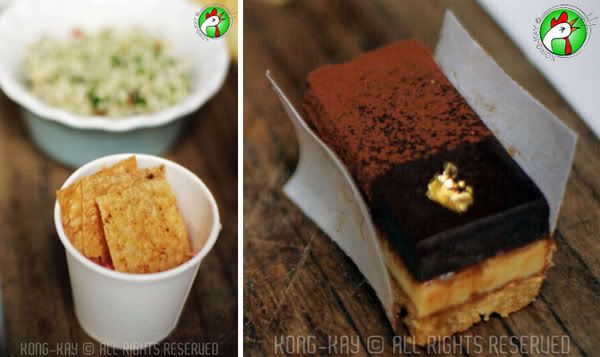 Finally, the above 2 rounded up a

Fan's Fare For The Common Man

.