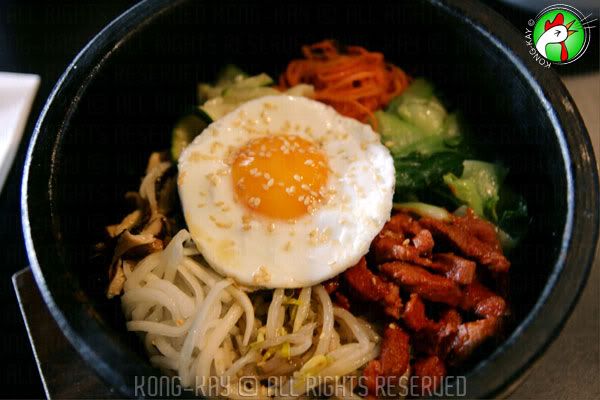 The doctor talked with me and he smiled
Said, Come and walk with me
Come and walk one more mile...


... another mile we did, from the car park at the mall to the end of the strip of Asian restaurants - this one is the third last one. This seemed to be a new joint, and someone was still in the mood for Korean (notice the Korean hairdo). We had picks from the lunch menu,
and the rest was left to the doc's discretion.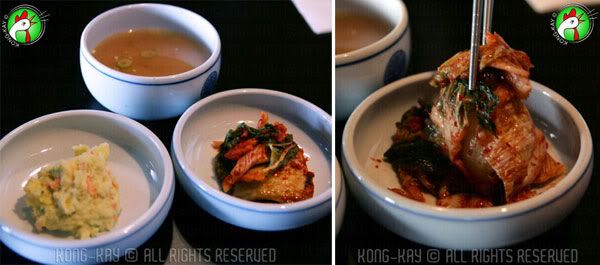 We had 2 different

Bibimbaps

, although they looked identical. It's rice served on a hot stone bowl, topped with

namul

(sautéed and seasoned vegetables: sliced cucumber, julienned carrot, Bok-Choy, beansprouts,
julienned
daikon, mushrooms) and

gochujang

(chili pepper paste), plus a fried egg on top. The rice sitting in the hot bowl, after a while tastes like the Chinese claypot rice, but without the burnt effect. The spicy sauce on the rice was nice. It was just like having a Chinese claypot rice experience.

Gal Bi Tang

The doc had the mixed beef ribs soup with rice. Didn't get a taste of his grub. The other thing we shared was the seafood rice cakes, which look like Penne pasta without the "hollow". If you ask me, the whole thing with its chilli sauce tastes like

Ju-Hu Eng-Chai

(Cuttlefish and Water Convolvulus). Couldn't even finish the dish, have to

Ta-Bao

.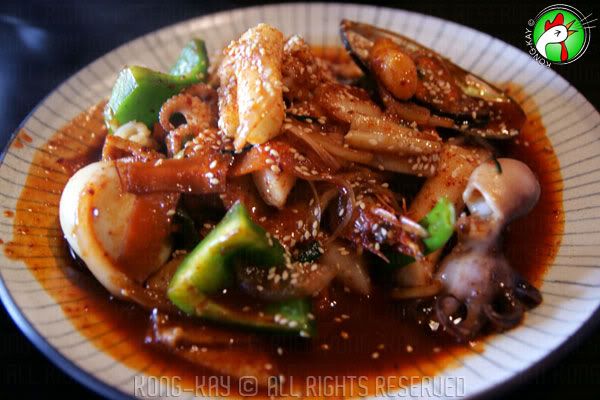 Seafood Rice Cake