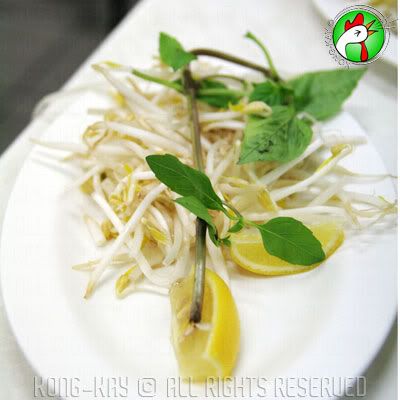 They say this restaurant serves one of the best

phở

in town; and the fact that it's always filled to the brim is testament to its popularity among the campus and office crowd. Even it's not too bashful to publicized its celebrity customers,
ranging from former prez. Bill, who had 2 bowls of the
phở
,
to god knows who.

This is our second attempt at this place on the same day. The lunch queue was too long so we went some place else. The evening crowd was as bad as we managed to squeezed in a table for 2.

This place sells rice dishes and other rice wrapper rolls as well. But it the
phở
that's what people are clamoring for; It comes in 2 sizes, and we ordered the smaller ones, which is $9 each. It's considerably huge by Malaysian standard.


I had the beef slices with meatballs.
What's there not to like in a
phở?
The soup was sweet with not a too over-powering aroma of the spices used, and not artificially colored with soy sauce, but with the omnipresent fish sauce.


Our other order was the special, which had a bit of everything
, brisket, tendon, tripe etc. It would have been nicer if they provided better chilli condiment like Ah Mui's

galangal

chilli sauce, instead of cut chillies and the bottled ones.